I live in Tokyo, where embassies are concentrated.
I don't know how many but I found a blog written about the embassies in Tokyo on a unique point of view.
So, let me share it with you.
The blogger, she toured the embassies with a map in her hand.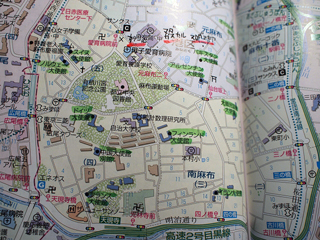 She started with Roppongi, Azabu-juban area.
Azabu-juban is the major embassies area, where it has the ones of America, France, Germany, Italy, China and so on.
First she went to Egyptian Embassy.
It's a pyramid… No, kidding,
it was a regular building LOL.

But there are sphinxes at the entrance!
Next, she went to Australian Embassy.
It is pretty modern looking, isn't it?

The kangaroo silhouette makes you sure that
it is the Australian Embassy.
Well, those are really nice embassies that you can tell they are embassies, but usually, embassies are also used as ambassadors' residences, so many of them stand in quiet residential areas.
For example, this is San Marino Embassy.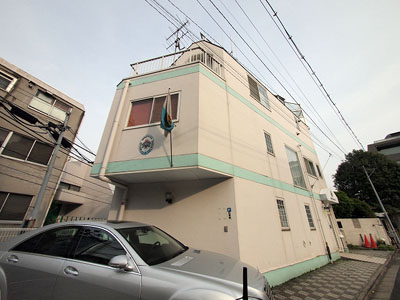 It looks like blue ocean and white sand beach.
It is hard to find an embassy in residential area.
So, the blogger tried to find each one by looking for the national flag and the emblem.
Oh, this is Guinea Embassy.
Easily recognized by the primal colored flag.
This one is not easy to tell, but Greek Embassy.
You can see the Aegean Sea blue flag just a little.
Touring embassies, she noticed something, which is that well known countries' embassies are big and old, for example; England, Italy, France, and Russia.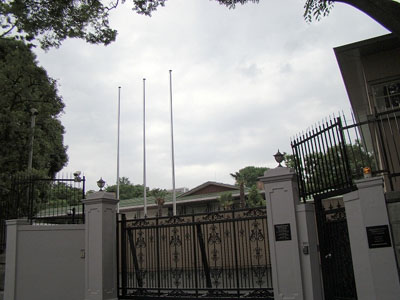 Italian Embassy. Big and old.
Another thing she mentioned is that American, and our neighbor Asian embassies are strictly guarded.
When you are approaching the embassy, you can tell that you are getting close by the heavy securities, even you can't see the building yet.
For example,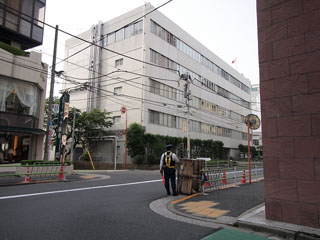 The embassy is three blocks away but police officer is watching.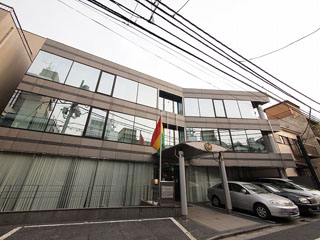 This is Ghana Embassy.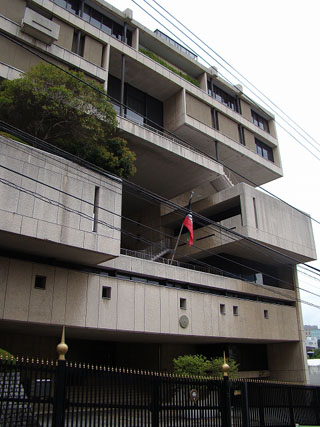 This is Kuwait Embassy.
This modern cool building was designed by a Japanese architect, [W:Kenzo Tange],
who also designed Tokyo Metropolitan Government Office.
This is Brazilian Embassy designed by Louis Ootake.
It's a design the Japanese people can't come up with.

This is nice and clean looking. Madagascar Embassy.
Now, I announce the top 3 Embassies that the blogger chose.
Are you ready? (Ready what? LOL)
#3: Cambodia Embassy
| | |
| --- | --- |
| | |
| From the front, it looks an ordinary building but… | There is a huge face on the other side! |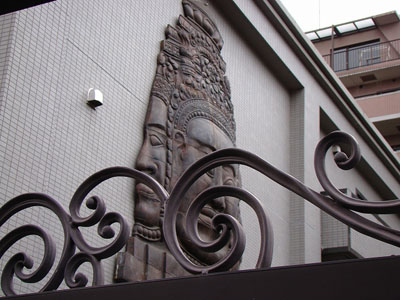 She went closer. It's really huge, too scary to see at night.
#2: Mexican Embassy
| | |
| --- | --- |
| | |
| The sharp roof. | The plant never seen anywhere else in Japan. |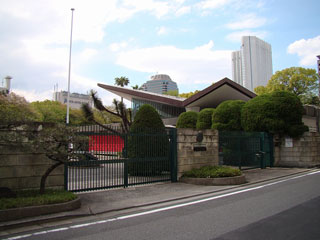 The gate and the building.
The blogger talked about the Mexican Embassy,
"The goodness of this embassy is the balance. The arrangement of colors, the use of space, and exotic plants they are carefully designed and dominate the place completely. It is one of the greatest healing spot in Tokyo. I think Mexico is a high-sense country, I've never been there though."
The number one is (drum roll) …
#1: Malaysian Embassy!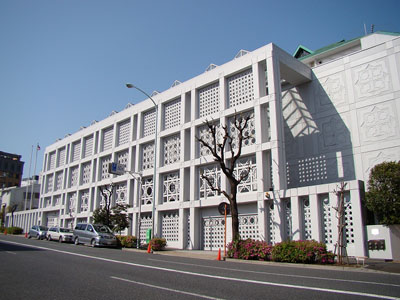 It is in Shibuya, Tokyo.
| | |
| --- | --- |
| | |
| The geometric pattern is so beautiful. | Truly beautiful. |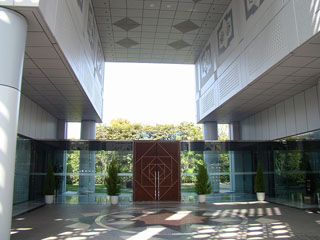 It's like a luxury resort hotel. Islam culture is awesome!
Seeing this embassy, the blogger thinks highly of Islam civilization.
She finished the report saying that Malaysia must be a very nice country.
Wow, this is a great report!
It is making a good point. I would never come up with the idea of touring embassies.
I am thinking to visit the number one, Malaysian Embassy, in the near future.
Source: Daily Portal Z
This is JAPAN Style!

You should follow me on Twitter.