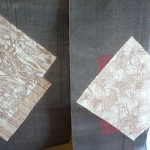 I introduced to you about the Japanese NOREN before on this Blog.
NOREN is a Japanese traditional door curtain.
Persimmon Juice Dye -Hand Made by a Japanese Professional Craftsman.
The persimmon juice dye has been widely used for Japanese goods for a long time since about the Heian era.
The juice of the persimmon has the character to dye only the cloth of a natural material.
Because the bitter juice of the persimmon is taken from the nature, it can be said it is very ecological.
The workman dyed this item introduced here carefully with the hand one by one.
In your home or for the present, how about such wonderful craft goods from Japan?
This is a NOREN or the Japanese door cartain to be hang from the ceiling of an entrance or somewhere you would like a divider.
Ex. kitchen entrance, shop, etc. Of course, you can use it as a tapestry if you wish.
Made in JAPAN!
This is JAPAN Style!
You should follow me on Twitter HERE.

If the eBay link is dead and you have questions about the item, please contact me here.
—————–—————–
JapanStyle will join the Blog Action Day!!! It is an annual event that unites the world's bloggers in posting about the same issue on the same day.
The aim is to raise awareness and trigger a global discussion.
The theme for 2009 is "Climate Change". I'll post some articles about it on 15th, so please visit my Blog!
—————–—————–