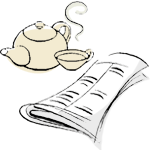 — ABOUT  Wasabi Stories… —
"Things Can Happen After Time Has Passed"
Today's story-teller is former prime minister [W:Morihiro Hosokawa], previously introduced.
The story is about 'marriage'.
When he was graduating from university, he was once rejected by Kayoko, his present wife. After he became a journalist and was assigned in Kagoshima, although he wanted to stay in touch with her, he was so busy that he hardly could write to her.
Meanwhile, Kayoko was busy with traveling to Europe as an expatriate staff.
She was working for a company that introduced foreign products and movies into Japan. There was no cell phone and such things back in those days, so Hosokawa and Kayoko kept missing each other for a while.
A few years later, he ran in the election for the House of Representatives. However, he lost the race. After losing the race, when he was going about getting a job, he got a job offer for covering international news from a publisher.
Now the story falls into the main topic.
After traveling Middle East and North Africa, he visited Rome. In Rome, Hosokawa and Kayoko ran into each other unexpectedly.
Kayoko was in Italy for purchasing Italian movies. She once spotted a person who looked like Hosokawa in Rome, but she had no time to call to him. But when she saw him the second time from a bus, she contacted the Japanese Embassy to find out which hotel he was staying and called him.
They met at the hotel for the first time in 7 years.
He recalls the time and says, "Meeting her again in a corner of a street in a big city in one of many countries of this big world is unlikely to be coincidental. We believe we were meant to meet there (I have not asked her if she feels the same way but I believe she feels the same)."
Then, they decided to get married. However, their relatives were against their marriage. They ignored others opinions. He could not take her out to fancy dinner, so instead, he took her out to a local izakaya restaurant and proposed her. Since he was short of money, he could not afford buying a ring for her. So she went to a shop and found an engagement ring and bought it for herself.
When he was 33 years old and he was elected as a member of the House of the Representatives for the first time, they had their wedding in private.
He says, "She helped me get to where I am now. Well, she says that she has been busy with getting involved in many volunteer activities but marrying me has been the greatest volunteer activity for her."
The NIKKEI 1/11/2010 by Morihiro Hosokawa (former prime minister)

You should follow me on Twitter.