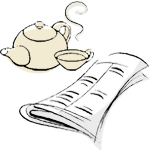 — ABOUT  Wasabi Stories… —
"An Strange Coincidence in Italy"
Today's storyteller is a water color painter, [W:Mitsumasa Anno].
The story is about a strange coincidence happened to him when he was in Tuscany a few years ago to paint landscapes for a TV program.
The town he went was Pienza, a UNESCO World Heritage Site.
In early morning, he and the TV crew were at an observatory and shooting him painting.
Suddenly an American woman approached Anno and said "Please sell me the painting."
Anno told her in broken English "No, I can't. I am painting this for work."
But the woman kept asking "Aren't you a professional painter?  If you are, you should sell it."
Annno didn't want to make it a big deal, so he asked the TV director to take her away.
While people around them were laughing at the exchange, he had to keep painting, which was hard and uncomfortable for him because he had never had such insistent request for his painting.
Next day, he painted in a different area in the town with the TV crew.
When he was painting by a roadside, a car passing by stopped and a person with familiar face got off.
That was the woman he met the day before.
Anno's word
"She asked me 'did you finish the painting?' I dropped in with her again. The crew put the shooting aside and just laughed at the strange coincidence."
The NIKKEI  May/28/2009 by Mitsumasa Anno (water color painter)
You should follow me on Twitter HERE.