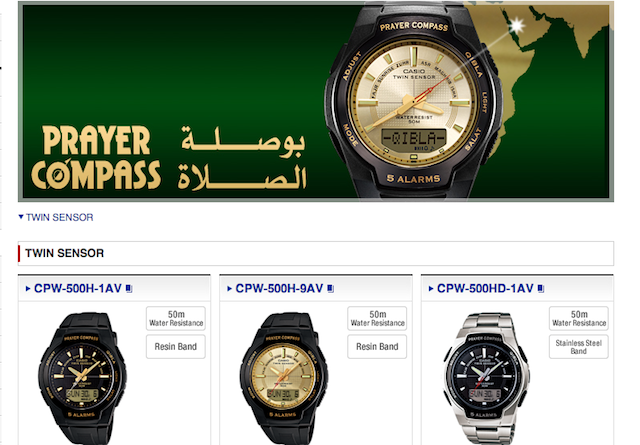 CASIO's Islamic prayer compass watches seem to be gaining popularity in the Middle East. For Muslim people, five daily prayers are essential. This might not be an issue for Muslims as long as they are in the Islamic areas with frequent calls to prayer. But once they go out of their countries, it must be quite difficult to know when, and toward which direction, they should pray.
In 1993, CASIO released the world-first outdoor use watch with a compass function. Taking advantage of this technique, the Prayer Compass series watches were developed. The first digital version was released in 1997, and in 2012 it was updated to the current analog version. The Prayer Compass watches have functions that show the wearer's position in relation to Mecca, tell the prayer times, and display the Islamic calendar. It sounds simple, but it might not have ever been produced without Japanese technology. Watches with these functions have not been yet offered by other makers. According to the original article, the most complicated part seems to be determining the prayer times. The times are derived from the sun's location and vary according to the wearer's physical location and the seasons. If the times went wrong, this would be a really serious issue. So, CASIO engineers put plenty of effort into investigation and verification. There are many ways to calculate the times, and the Prayer Compass series supports ten of them.
The price is around ¥5,000-7,000 (US$49-69) for the watch, and this attractive price point might accelerate the item's popularity. It's considered a "hot seller" when tens of thousand of watches are sold. However, in the case of the new model Prayer Compass series, 400,000 pieces were snapped up in 30 countries! w(*o*)w
I lived in Indonesia for two years. At that time, Islamic prayers times were quite familiar, and I often wondered how the Indonesians knew the time and the direction whenever they were in non-Islamic areas. I'm so glad that Japan's technologies help them such in a wonderful way 🙂
Source: Mainichi. jp / CASIO
Authour: Junko
This is JAPAN Style!