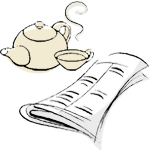 — ABOUT  Wasabi Stories… —
"A Rival Makes You Grow"
Today's story teller is a sports writer and a former marathon runner, Akemi Masuda.
In her story, she wrote about her coach from her high school.
After having impressive achievement as a runner, she retired and turned to be a commentator, and also her cheerful personality often seen on TV talk shows.
When she was 9th grade, she was already a powerful runner to enter the national competition; however, she was going to be a teacher until recruited from the coach of the track and field club at Narita high school, Mr. Takita.
Deciding to continue to do track and field, she started boarding at the coach's house, where she lived together with the same age runner, Yoko Higuchi.
To Masuda, Higuchi is a rival, but the both runners' training schedule and diet are the same.
"I can't win against her unless I make some kind of difference."
Masuda was thinking the way to ahead of her everyday.
Looking back the days, she says
"When it wasn't my turn to cook, I went my room 20 minutes early to do sit-ups 500 times, while Yoko was taking a bath early and doing push-ups. When I was running early morning, I met Yoko who was running toward me from opposite direction. Sometimes I put extra rice in her bowl to fatten her up. "
Such attitudes became known to Mr. Takita, who told the runners, "Discard such lowbrow sense of rivalry. Thank each other."
At that time, Masuda couldn't get why she had to thank her rival.
During three year in high school, they practiced hard by competing against each other.
Higuchi nationally topped in 1,500 meter race, and Masuda won 3,000 meter race and 10,000 meter race.
When they hugged each other crying, Masuda realized the meaning of the coach's word.
"I grew up thanks to the rival to compete with each other."
The NIKKEI Jun/25/2009 by Akemi Masuda (sports writer)
You should follow me on Twitter HERE.