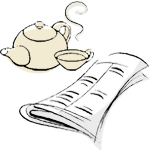 — ABOUT  Wasabi Stories… —
"Unexpectedly Awakened through Something"
Today's story teller is Director and Senior Advisor of Nippon Yusen Kabushiki Kaisha (NYK), Takao Kusakari.
The story is about what he learned from a move.
The other day, he moved from a house he had lived for 30 years into a condominium.
Although both houses are in Tokyo, it was hard as if it was a tribal migration for him and his family.
"Arrangement of transportation, preparing for moving in at the new place, going through the formalities and so on. I left every work to my wife. After putting up a solitary struggle, she lost four kilograms by the time the move finished."
To make up to his wife, he devoted himself to muscular labor and unpacking under her absolute obedience.
While obeying her instruction, he sometimes muttered.
Kusakari: "Hey, isn't this better to be in another closet?"
His wife: "No. I have really considered and planned so, just follow my instruction!"
Finally, they finished everything and went back to a normal life, but Kusakari felt indescribable tiredness in all of his body, and he realized something.
At his company, all he does is to direct his men one-sidedly; however, during the move, he was forced to obey his wife.
Kawashima found the tiredness came from the stress caused by obeying for a few days.
"On reflection, I may have been giving this stress to the staff concerned with me for a long time. In my head I knew that 'young people's idea is the company's lifeline' but I might have been the Emperor from 'The Emperor's New Clothes'."
Because he has drawn back from the forefront, it's a little too late; he wishes he realized that much earlier.
The NIKKEI Jul/15/2009 by Takao Kusakari (Director and Senior Advisor of Nippon Yusen Kabushiki Kaisha)
You should follow me on Twitter HERE.