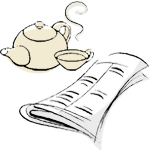 — ABOUT  Wasabi Stories… —
"Go Half Step Forward Tomorrow from Where You Were Yesterday"
Today's story teller is a jazz trumpeter, [W:Terumasa Hino], who is widely acknowledged as one of Japan's finest jazz musicians.
He has been teaching extracurricular class called "Dream Jazz Band" for junior high school students and serving as principal for five years.
"Music is assertion. We show the attitude as a human and a way of life through music.
If the assertion is weak, people can tell there is nothing in the person. Nobody gets moved." Hino said at the beginning of this article.
Every year, they have graduation ceremony for the extracurricular class, but it doesn't seem to give him a special feeling.
Hino is always aware of "tomorrow", and create the music that just doesn't stay in Japan but goes into the world, so he doesn't stop to look back the past.
"I never listen to my albums. I tell to the other members. Don't do what you did yesterday, today. It's hard. I can't do either. But without such eagerness, we can't create."
The NIKKEI May/8/2009 by Terumasa Hino (jazz trumpeter)
You should follow me on Twitter HERE.