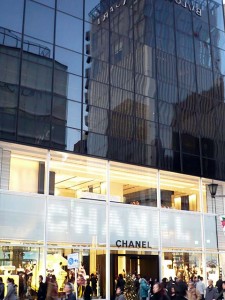 The other day when I was reading the NIKKEI news paper, I found an article about the President of CHANEL Japan, Richard Collasse.
The story was about his relationship with the workers who constructed the CHANEL Ginza Building, and it impressed me, so let me share it with you too.
Needless to say, CHANEL is a famous French fashion brand.
The flagship shop is in Ginza, where it is famous for its high land price, also known as an upscale area of Tokyo.
Many famous fashion brands are located here.
In 2004, CHANEL established a building in Ginza.
During the construction, Mr. Collasse often visited the site to see how the workers are doing.
When he visited there in the late night, he saw young scaffolding workers were working on the very top of the building without getting scared.
After they came down at 6 o'clock in the morning, he had some tea with them.
Through the communication with the workers, he realized how they are proud of their job, just like the CHANEL's craftsmen are.
"These young men will marry and have children in the future. I want them to tell their children that they are the ones who constructed the building."
Mr. Collasse decided to save all the people's names who were involved in the construction on the cornerstone.
Because there are so many people in different works, it wasn't easy to search their names; when it's done, the plaque was carved with 2,500 names.
The gladness of the workers was no need to be mentioned here.
I was actually impressed when I saw the plaque at CHANEL Ginza Building.
These are the pictures I took.
On the plaque, there is an introduction written in French, Japanese and English.
French
"ICI, ENTRE LE 1ER FEVRIER 2003 ET LE 16 NOVEMBRE 2004, 2500 PERSONNES ONT PARTICIPE AVEC PASSION A LA CONSTRUCTION DE L'IMMEUBLE DE CHANEL"
Japanese
"ここに掲げられた2500名は、2003年2月1日に着工し、2004年11月16日に竣工したシャネル銀座ビルの建設に誇りを持って従事した"
English
"Hear the names of the 2500 people who proudly participated between February 1st 2003 and November 16th 2004 to the construction of the CHANEL GINZA building"
According to the NIKKEI article, Mr. Collasse is known as an expert on Japan.
He bought a Japanese style house in a famous tourist town, Kamakura, and he spends time in kimono and writes a novel there.
He likes sento (a public bath house) and has interest in Japanese tea ceremony and Japanese archery.
It seems like he knows much about Japan but he tells the NIKKEI that he wants to comprehend the country more.
Being impressed by Mr. Collasse's effort to know Japan well and giving honor to the Japanese workers, I want to say my appreciation to him.
"Merci beaucoup, Monsieur Collasse!"
Reference: The NIKKEI, December 4, 2009
This is JAPAN Style!
You should follow me on Twitter HERE.