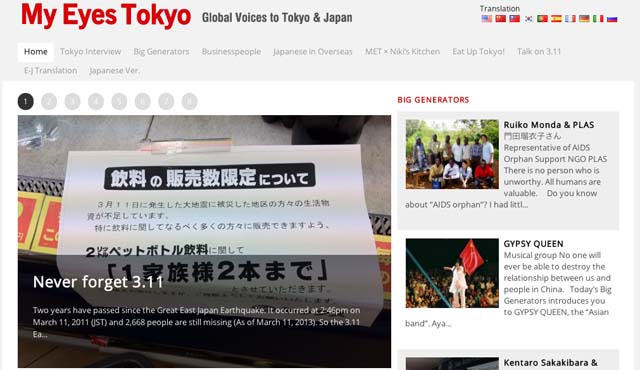 In a Japanstyle article from a couple of months ago, I announced our new collaboration project with "My Eyes Tokyo", run by my friend, Tokuhashi-san.
Today we are proud to bring you the memorable first article from our new collaboration.
I personally am a devoted fan of Major League baseball and I often watch the games on TV. And now the World Series is taking place! I've been quite thrilled, especially this season, because Japanese players such as Koji Uehara and Junichi Tazawa with the Boston Red Socks are contributing to the team' success very well! So, this time around, I would like to introduce a feature article about baseball.
******************************************************
Daisuke Ikenaga & Savigny Lions
Playing manager of French baseball team – Their skills were worse than I had expected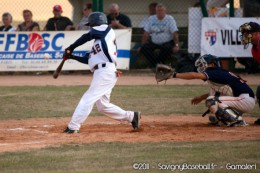 Have you heard of the "independent baseball league"? In Japan, there are independent leagues separate from the professional baseball. There are 4 leagues in Japan called respectively "Baseball Challenge League" "Shikoku Island League Plus" "Kansai Independent League" and "Girl's Professional Baseball League". Today we introduce you to a young baseball player who works as a bridge between Japanese independent leagues and a French team.
Daisuke Ikenaga, a playing manager of the French baseball team called "Savigny Lions". We met him through my friend and heard his stories while eating. Ikenaga, who's played baseball in 6 countries in total, is meek, pure, and has a wide vision and is well-informed. I was greatly attracted to him, so I asked him to give a lecture at a certain place.
That place is a self-support facility for "withdrawals". Ikenaga accepted my request at once. And he wrote on his Facebook page the following;
"I was invited to an NPO facility that supports withdrawals and talked on my baseball history. To be honest, I believe that it would be a better experience than talking to baseball players. That would be a chance for me to grow as a human being! I believed that playing baseball is only for my own growth, but sometimes it would be for others. I'm looking forward to it!"
After the lecture, he said; "Society sees that people whom I talked to are 'withdrawals', but they are really excellent 'creators'! Now I'm really grateful for them because they helped me realize that. So baseball players should not only play baseball. I believe that's why I accepted the invitation for the lecture. If I only talk with baseball guys, my world wouldn't broaden."
So we bring you his lecture instead of the interview. The first part is his activities of the playing manager of the French team. And the second part is the activities of a "bridge" linking Japan and France through baseball. Even if you cannot be a professional baseball player, you can make a living by baseball – that's his message.
– Daisuke Ikenaga –
Born in Tokyo in 1980. He started playing the baseball in 5th grade. After he graduated university, he worked part-time and took team tryout tests. Moved to the US in 2005 he joined a team called "Japan Samurai Bears" there. After the US, he played in Germany, Australia, etc and went to France. He was in charge of the playing manager of a farm team of "Savigny Lions" in the first year in France and will be a playing manager of the first team of Savigny Lions in the season of 2012. Also he will be the assistant coach of the French national team in 2012. (As of Feb. 7, 2012)
*Lecture at Chiba City (February 7, 2012)
Voice what you want to do
I'm a baseball player, but I wonder if I could say I'm a master of an art. I'm not a Major League player nor a player of NPB (Nippon Professional Baseball). But I'm proud I've learned how to make a living in baseball by myself.
I'll be a playing manager of the first team of a French baseball team and the assistant coach of the French national team this year. I asked my team that I wanted to go along with the national team what my conditions might be before going to France.
In July 2011, my team suggested I join the game as a coach when the American university all-star team came to France. It was beyond my expectation. You don't think you can be that easily even if you say you want to be a coach many times. Moreover I'm Japanese.
But my work at the farm team of Savigny Lions was recognized and I was hired as a first base coach at the all-star game. It was a really good experience for me! So now my goal is to put together a national team in the European Cup and the elimination of the World Baseball Classics. Also I want my team to win the championship in the league and the cup game. Then many TV stations would come to interview me. I'm kind of kidding, but actually I want to tell people, "This is also a baseball career" "Professional baseball is not only a way to live through baseball".
Like a migrant bird
I've played baseball in the US, Germany, the US, Japan, Australia and France. "Japan Samurai Bears" is the first team that I joined and it had no home, so we had no home, either. Everyday we stayed at hotels and traveled by bus during the baseball season. I always brought my own rice cooker when there were expeditions.
In Germany, I played baseball at a stadium while the sun was setting even though there were only a few spectators watching. If I were you, you would be wistful and fall out of love with baseball. But I thought about how many Japanese had played baseball under such circumstances and came to enjoy it. In Australia, I played as a closer with the silver medalists at the Athens Olympic Games.
I absorbed each playing style in each country. For example in America, baseball is total entertainment. So if you hit a long ball or throw a fastball, spectators get excited. Not like our baseball which often uses sacrifice bunt in order to advance runners. Also ours seems to put weight on fielding. I'm not sure which is better, because Japanese baseball won the championship twice inWBC, the World Baseball Classic.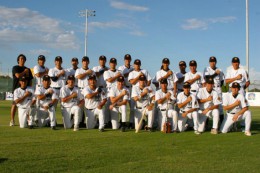 Japan Samurai Bears – His starting point for baseball career in overseas.
Basically we sign a year contract with teams abroad, so we can't play on the same team for 2 years. So we send our resumes to teams of our choices in order to look for the next destination. You may think we cannot concentrate on playing, but we have to do that to continue our careers. That's what I've done so far and I'm going to play in the same team for two years in a row for the first time.
Ethnic makeup varies on my team in France. There are Whites, Blacks, Arabs, Caribbeans… so you cannot hear only French but also English and Spanish. It's really international, that's why I can belong. In fact, I didn't hesitate to be a member of the team thanks to this kind of diverse environment.
Originally the reason why I became a member of Savigny Lions is that I was introduced to a black French player. My friend who was playing in France in 2004 is a teammate of a French player and he worked as a bridge between me & the French team. I was involved in his transfer to a Japanese team recently – I will tell you later.
Leading an unskilled team
I became a playing manager for the first time in France. I signed up withSavigny Lions last year as a playing manager of its farm. And I played for the main team after the season of the farm ended. The main team is strong enough to often get into the playoffs. About 6 players became the French national team members. Its ace pitches a 148km/h fastball. The team manager was an American and I played on important occasions.
I wanted to be devoted to play, but they couldn't increase the number of foreign players anymore. In France, foreign players of both the main team and the farm must be 2. I pondered what I should do, but the team asked me to be a playing manager of its farm for the time being. I said OK without deep thought because the salary they offered was not too bad. Then the day when I went to join their workout for the first time – They were the French farm players – I thought "Terrible!". They were almost all amateurs. I wondered whether they could play catch well. I am a man who wanted to play in the US again, so I asked myself if I stayed on the course. The gap between the main team and the farm one was severe.
The farm has only 20 games in a year and plays between April and June. Games have 7 innings. My team finished with 1 win and 19 losses in 2010. I wondered how they won the game once and they told me that it was a victory by default. Then I became the first foreign manager of the team. I thought I would have to manage such a terrible team. But on the other hand, I thought I would be able to improve the team in my own way.
I came up with an idea. "How about firing up a team by showing them my play?". As a result, my team finished with 10 wins and 10 losses. Also I was a successful player who won many league titles such as in batting average, hits, doubles and triples. I got the highest number of hits by a pitcher because I was marked.
I experienced a starting pitcher role for the first time in my baseball career. I won 8 times in the last season even though I was 31 years old. I thought it's never too late to start something.
I couldn't improve a team alone. I think every player trusted me and followed me because I showed them lots of tangible results.
Sharing the joy of victory with other players
I didn't care about the players' results at all. Their batting averages were .100 and something, so I told them not to think about the result. I covered for their unskillfulness instead. The strength of the farm teams are almost the same and there were not so many skilled infielders, so I told them, "Bounce!" and "Run full pelt toward the first base!" So I made them dash many times. Also I made them run when they flied practice. It was a kind of a penalty. They took my advice because I think I showed them good results. Moreover I had face-to-face meetings with them many times and let them think of the reasons why they played baseball.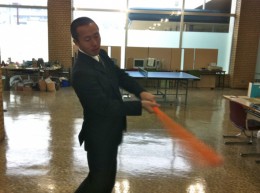 He shares the tips of batting with participants. (February 7, 2012 Chiba City)
In the result, my team placed 4th in the league in 2011 even though it had always been at the bottom (6th place) until the year before. Also they fought hard several times and won. Players get nervous during close contests because only one mistake spells defeat for the team. Players of my team changed their attitude toward baseball. I was really happy with that.
As for fielding, I felt like they made wonderful plays even if they caught only outfield fly balls. I pumped my fist into the air when they played well as if we had won the game. I believe it's good for you to pay an extravagant compliment in order to win the game. Then we could experience the joy of victory for the first time.
Designated as the main team manager
After the farm season ended, I played for the main team around last July. Teams are really strong and pitchers threw fastballs. Totally different from the farm, but I played as a shortstop until the playoffs. Then Savigny Lions asked me to be a playing manager of its main team in the season of 2012. It was July 2011, still in the last season. So I will play on the same team for the second year in a row for the first time.
But… the players of the farm are not happy with that. They said, "You got hired by the main team because we performed well."
I am emotionally attached to the farm very much. Main team players are really skillful so they can win the game easily. But I am a man who pull the farm team together. In that sense, I prefer to play with the farm team guys.
Bringing French baseball players to Japan
Japanese independent baseball leagues such as Shikoku Island League seem to have taken root in this country. Frederic Hanvi and Felix Brown, French baseball players, will join the team calledGunma Diamond Pegasus as an indication of their progress.
They are the first French players who signed contracts with a Japanese baseball team. European baseball website featured their joining. I believe they'll be members of the French national team for WBC 2012. That's a historic achievement for French baseball and I connected them with the Diamond Pegasus. It means I worked on it as an agent. I took them all over the country in a car for tryouts, translation, paperwork and contract talks… I was in charge of all of them. I'd never imagined that I would take care of other people.
I think you take something, you give something back. It's natural. It's like circular slit. You drop something into the water and it cases a ripple. Then a ripple bounces off the wall and returns to it's origin. I would like to be generous enough to contribute to others. Many people have given me help a lot since I started playing baseball. So now it's my turn. I want to support people as much as possible as an assistant coach of the French national team.
Forerunner's achievement
"French""Baseball"… are words that conjure up an image of Yoshio Yoshida, who led the Hanshin Tigers to a championship in 1985. He managed the French national team from 1989 until 1995. Mr. Yoshida used to be a shortstop and I'm a shortstop, too. But I was surprised at his performance when I watched it on YouTube. It was much, much more excellent than mine is. He threw a ball in the same breath as he caught it.
Mr. Yoshida is an honorary member of the French Baseball & Softball Federation (*In French;Fédération Française de Baseball et Softball, FFBS). He still visits France every year. Everybody who played baseball in France knows him. He had a major impact on French baseball, so it's like Japanese baseball. On the other hand, the baseball in other European countries is like the American one.
I've met him 3 or 4 times so far. French players can join the Japanese team, they can attend its practice; those are gifts from Mr. Yoshida. He built a foundation for teaching baseball in France.
Little did I dream that I would come to Europe as a baseball player. I can come into contact with various kinds of cultures in France. Also I can learn the different kind of baseball from Japanese one. All of those experiences are very, very precious to me.
I used to tour all over Japan when I dropped out of baseball. My current situation is smaller to it. Now I think that solo travel made me want to play baseball in many places.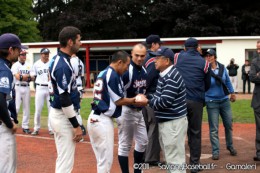 Shaking hands with Mr. Yoshio Yoshida
Making dream come true in Japan and the world
Next season I'll be a playing manager of Savigny Lions so I'll be able to be in charge of its personnel planning. The owner of my team used to be an assistant coach of the French national team when Mr. Yoshida was managing it. So he loves Japan very much and he said, "I decided that all of our foreign players will be Japanese". The main team and farm can hire up to four foreign players in total. So I appointed a Japanese person to be the next manager of its farm. A tough assignment will be given to him because I really improved the team's performance and the team leaders will expect that it improves more.
I hope French baseball would be the place to go for Japanese players who got laid off from Japanese professional league. Actually some people are interested in playing there. But French baseball is not professionalized yet. Foreign players including me signed up with the team as professionals exceptionally. So we have to strengthen its organizational structures and improve its finance and equipment more in order to accept the offers from professional Japanese players. Also attracting large crowds is important because only players' families come and watch the game in the countryside.
We'll have the European Cup and go to the WBC for the first time. It was decided that I'll be a first base coach for the European Cup which will be held in September 2012. I'm happy with that but if possible, I want to work for WBC as a batting-practice pitcher or something else and see how strong Holland or Italy is .
And if French team play against Japan in WBC elimination and I'm in action as a first base coach or something, Japanese people who watch the TV will be really surprised, like "Who's that guy?". Yes, I want to hear comments like that.
There are still many unknown parts in European baseball. As for French baseball, we can meet with great players on the Caribbean Islands. So there's still considerable room for its growth, which means I can do a lot more things for French baseball. It's like a niche business. I want to introduce European players to Japanese ones, or I want to introduce Japanese players to European ones. In order to realize that, I want to operate a baseball team.
And after that, I hope I can teach baseball to local children. I want to give things I learn back to home.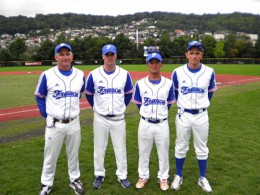 With leaders of French national team. Far right; Manager Fabien Proust
What is baseball to you?
It's like a dictionary which nurtures my spirit.
You can learn a lot from baseball. Especially I deeply thought about ties or bonds among people because of the 3.11 Earthquake. I realized that we cannot live alone and we cannot win the game alone. Taking care of your teammates, swinging from joy to sorrow… you can feel bonds at these moments. We often compare our lives to baseball. "Sacrifice bunt in your life"… oh, that's pretty good. "Double play in your life"… that sucks! Because it's easy to liken baseball to human life because they are similar to each other. And people in the world can connect with each other by playing catch. You can communicate with the world with one ball if you want. I believe conflicts can be resolved with a ball.
We are (B)all one!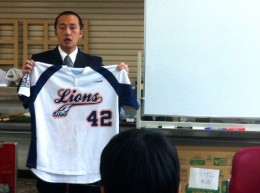 Lecture in Chiba City (February 7, 2012)
Daisuke's link >> Savigny Lions (French); http://www.savignybaseball.com/
******************************************************
The original articles on My Eyes Tokyo
* Part 1: http://www.myeyestokyo.com/4220
* Part 2: http://www.myeyestokyo.com/4222