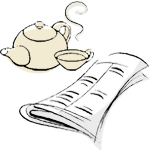 — ABOUT  Wasabi Stories… —
"Take a Look at Your Work with the Big Picture"
Today's story-teller is [W:Toshihide Maskawa].
Maskawa was awarded the Nobel Prize in Physics lately. The article is about the award ceremony.
The award ceremony was held in Stockholm, Sweden. It was his first trip to overseas. So he got a passport for the occasion.
Surely he had had invitations from other countries many times in the past. But he does not like speaking English so that he had been resisting all the invitations.
However, this time, it was the award ceremony for the Novel Prize.
It was certainly an honor. He described his feelings how much he wanted to give his speech in Japanese and he was thinking of declining the invitation if they didn't accept it before he went.
On the day of the award ceremony, he talked about people who helped him and then finally, he said what he wanted to say the most:
"It required more than 30 years and great efforts by researchers to conform the theory. I would like to thank people who supported this grandiose project."
There was his own way of thinking behind his speech.
"I wanted to send a message that people's understanding is essential for the promotion of science. Expensive laboratory equipments are necessary to test scientific theory. Therefore, every tax payer's understanding for science is absolutely necessary."
The NIKKEI 11/27/2009 by Toshihide Maskawa (theoretical physicist)

You should follow me on Twitter.