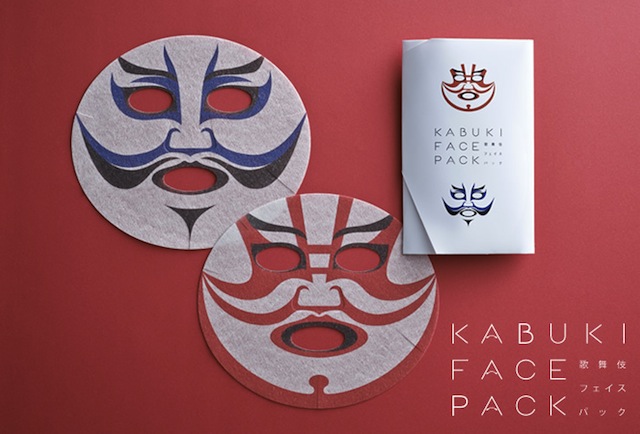 Do you use any special methods to keep your skin healthy? Or you are not very interested in your skin's health? Well, whether you fuss over your skin or not, I bet you will be wanting these face packs; "kabuki" face pack and animal face pack. Both are produced by Japanese maker Isshin-do Honpo. According to the original article, design printed face pack sheets are "world-first" w(*_*)w!
As you can see in the picture above, the special kabuki make-up design called "kumadori" is printed on the face pack sheet. Development of this kabuki facepack was supervised by a famous kabuki actor, Somegoro Ichikawa, and it was released in December of last year. Once available, this Kabuki face pack became popular and sold out very quickly. And every time a new supply hits the shelves, it seems to go out of stock in a few days!! By the way, the blue one named Funa-Benkei is the face of a vengeful ghost. And the red one, "Shibaraku", is the make-up of a hero.
In cooperation with Ueno Zoo, the faces of their Sumatra tiger (Kunde) and two panda bears (Lili and Shinshin) are carefully reproduced on the face pack sheets. These Will be released on May 23rd. Sumatra tigers and panda bears are both being designated as endangered species, and a portion of sales revenue will be used for protection of these species.
Both versions have two sheets in one package, and the price is ¥880 (=US$8.70). I thought it might be more expensive! These beauty face pack sheets would be perfect as a souvenir from Japan 🙂
Source: NetLab
Author: Junko
This is JAPAN Style!