Today, I want to talk about a great Japanese man whom I recently come to know through a Japanese TV show that introduces Japanese people who are active outside of Japan.
His name is Tsuyoshi Shimaoka (47 year's old), and he is active as a "revolutionary" in Zanzibar, Tanzania.
Reading so far, some of you may "not interested in Africa" or "Japanese people," but Mr. Shimaoka's s story is full of teachings, so I would like to read it to the end.
*
According to the show, he and his wife have lived there for over 20 years working for economical development in Tanzania.
Concretely, they bought ships and hired crews to start fishery and set it on its way. They also work on foreign trade (selling the local coffee and so on) and engaged in art dealer selling Tingatinga, which has been popular in Japan.
He hadn't experienced any of those businesses but his tasks have taken shapes by using his personal connections and his natural guts.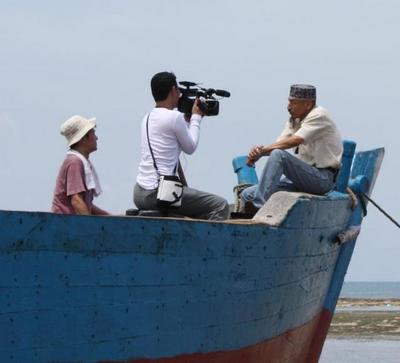 On one of the Mr. Shimaoka's Ships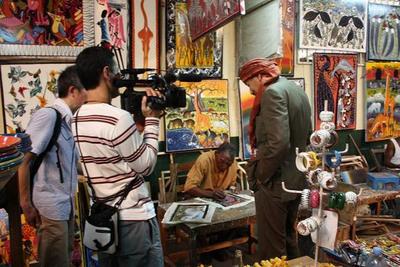 At Tingatinga Village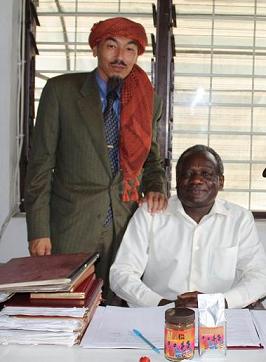 At Coffee Manufacture, TANICA company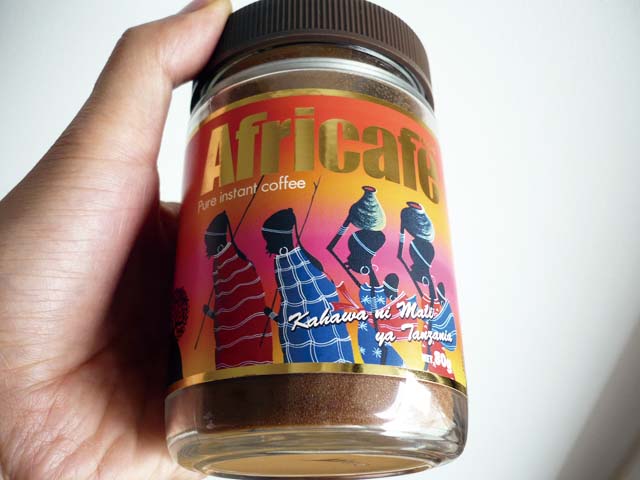 The Coffee's Jar. Too Beautiful!
Meanwhile, he teaches judo to the local people as a Tanzanian government-authorized coach with a view to make them have strong mental-power through the hard practice.
The other day, some of them came to Tokyo to learn judo and spent time together with Japanese young people. It is one of Mr. Shimaoka's aims; he believes that visiting another country and see a great deal of life stimulate them in many ways and the experiences will be their fortunes.
Link: Zanzibar Judo Website
It is Mr. Shimaoka's mission end "ambition" to lead the way for the people there by giving them job so that they can support themselves, and eventually the African countries can live by themselves without relying on aids.
When we hear the word "revolution," we easily imagine violence and war, but that is not what he means. For him, "revolution" is to restore the African countries fundamentally, especially in financial approach.
He started such activities from scratch.
Having impressed by the show, I started wanting to meet Mr. Shimaoka, and I actually met him two days after the show.
For the currently going "Tingatinga Original Paintings 2011" in Japan, Mr. and Mrs. Shimaoka were visiting Japan.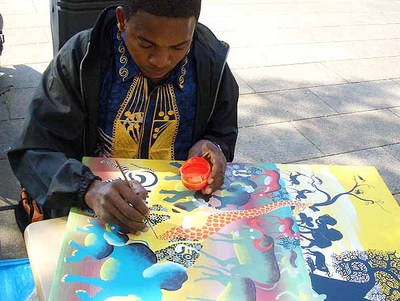 My first impression of Mr. Shimaoka was "fighting man!" showing his severe life experience on his face.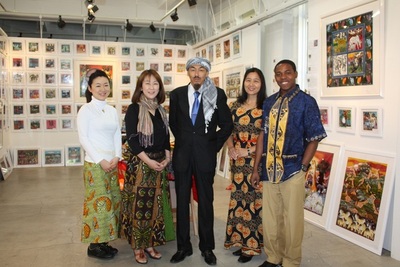 Mr. Shimaoka and his wife Mrs.Yumiko Shimaoka
(the second woman from the right)
Since it was a rare chance, I asked him some questions.
What struck me was that he is not interested in "business" to make money at all. All the work he did in Zanzibar was basically started off from "commissions." He engaged both fishery and art dealer because he was asked for advice and thought "I want to help them."
I asked him "So, you mean that 'natural qualities' and 'humanistic charm' are the important things?"
Mr. Shimaoka answered "Right. But what's more important is to 'give shape to the plan.' "
Once you accept something, you must make it happen. He told me that the ability to get things done is the essential.
"About the activities in Zanzibar," I asked "did you do all the work by yourself? I mean, it would be hard to do multiple tasks at the same time."
"Of course I did." Mr. Shimaoka answered "I am here because I have done so. I don't have knowledge and licenses but I took actions and they worked out."
Let me say in passing that he takes only one meal a day because he wants to have hungry spirit all the time!
* * * * *
To conclude his story in my point of view, the followings seem to be the keys to success and what he should learn from him.
Point1: It is important to be an attractive person that people want to ask a favor of, and have ability to get things done.
Point2: Hold unshaken faith and ambition from early stage.
Pont3: Keep having hungry spirit. It is quite hard but put some efforts to do so.
Point4: Knowledge and licenses are not important to do something. Don't give up but take action, and it will work out.
Point5: Give priority to others over yourself.
I think these are the groundings for anyone who has job regardless of the type of occupation.
I admire him as a human and his work deserves our respect.
Mr. Shimaoka's story is too magnificent to tell at once, so I had to abridge pretty much but I hope the story leaves something in your minds.
Source: africafe (Japanese)
Zanzibar Judo Association Official Site (English)
This is JAPAN & TANZANIA style!