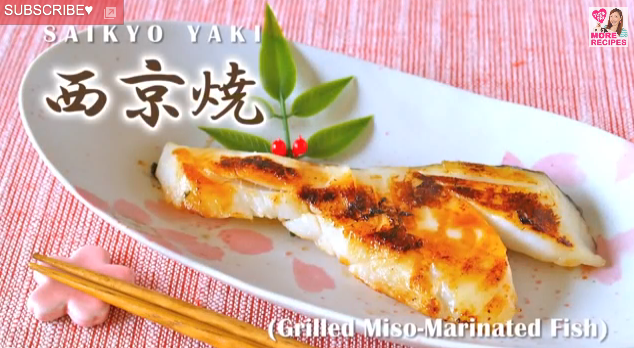 Today's Japanese recipe from my favorite Youtube channel, "Ochikeron" is grilled miso-marinated fish, saikyo yaki. A special white miso called Saikyo miso originating in Kyoto, is used. If you don't have saikyo miso (real saikyo miso is expensive and it might be difficult to find at regular grocery stores near you), any white miso would be just fine!
———————————
Saikyo Yaki (Grilled White Miso-Marinated Fish)
Difficulty: Easy
Time: overnight
Number of servings: 4
Ingredients:
– 4 fish fillets (black cod, salmon, sea bass, Japanese spanish mackerel, etc…)
– salt
– 300g (10.5oz.) Saikyo white Miso
– 3 tbsp. Sake
– 3 tbsp. Mirin (sweet Sake)
———————————
The ingredients are quite simple, aren't they? The cooking steps are also not so complicated, but I usually cut corners when I cook it. It would be best to follow the recipe carefully, but I am kind of a person who has limited patience and can't wait overnight! I just put the miso marinade directly on fish fillets without gauze and allow them to sit for only a couple of hours. I currently live in an inland area of the U.S. and can't expect a wide variety of fresh seafood. So, I usually use salmon and recently also found the variety of fish called "orange roughy" which proves very good for saikyo yaki!  😛
Author : Junko
This is JAPAN Style!