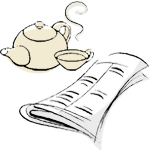 "Don't be hasty! Don't compare! Don't give up!"
Today's story teller is a member of a female vocal/dance group SPEED, [W:Eriko Imai].
Working as solo, she released the 3rd album "Utagoe" in April 2009, and there was her interview article in Tokyo Head Line, a Kanto district limited free paper.
Utagoe means "singing voice" in Japanese.
"May my Utagoe reach to the listeners." That is her wish she put into the album.
To the question "what do you want to tell your fans through the album?" she answered,
"Hope. I love these three words 'Don't be hasty. Don't compare. Don't give up.' Humans are greedy and envy others, but I am myself but no one else. So, I want to deliver the three words to everyone who listens to my songs, and tell them don't give up your dreams."
TOKYO HEAD LINE Apr/27/2009 by Eriko Imai (singer)
You should follow me on Twitter HERE.