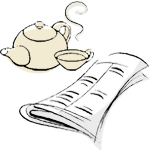 — ABOUT  Wasabi Stories… —
"Make a resolution, and you'll bring your power into full play"
Today's story teller is an architect, [W:Tadao Ando].
He told about the time when he was aiming to be an architect.
When he was young, he used to go to Todai-ji, a Buddhist temple in Nara, because he decided to learn architecture by actually seeing those temples in Kyoto area with his own eyes.
He was especially impressed by the scale of Nandaimon (the Great Southern Gate) at Todai-ji, he visited there over and over.
It was about his fifth visit; a monk approached him and asked "what are you doing?"
Ando said, "I want to burn it into my mind."
The monk said, "You are interesting person. Would you like to see inside of it?"
He invited Ando into the temple.
Spending really precious time in the temple, Ando felt "the architects' thoughts on it are very strong and beyond art and techniques."
From the architecture, he felt the challenge spirit of making something new, anxiety, determined mind, and tense atmosphere.
He thought that those are the grounds of the achievement of them reconstructing Nandaimon.
Extremely speaking, "making something needs resolution."
Ando's word
"The points in common among excellent architectures are spirits and passions. I want to say to young people, 'Work with deep concentration. I am sure you will see something there.'"
The NIKKEI Oct/16/2009  by Tadao Ando (architect)

You should follow me on Twitter.