Cafe in Aichi prefecture is widely known for its free breakfast served when you order a cup of tea or coffee in the morning.  Such free breakfast often involves bread, boiled egg and salad, etc.  An article I chose for today is about such breakfast special of Nagoya.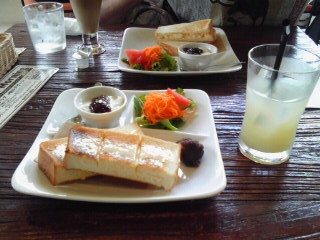 According to the article, a cafe in Nagoya is offering a breakfast set consists of surprising 7 items for free when you order a cup of coffee, which costs 400 yen (equivalent to US$5.21).
Wow, 7 items!!  It is hard to prepare 7 items for breakfast everyday at home, so it already sounds appealing, doesn't it…? w(*o*)w
The breakfast special named 'Gorgeous Nagoya Breakfast' includes chawanmushi (steamed egg custard), red miso soup, toast, rice ball, salad, desert and lactic acid drink. And if you are happy to pay extra 50 yen (equivalent to US$0.65), you can have a toast with sweet red bean paste or cinnamon powder instead of having a plain toast.
I couldn't obtain an exact image of the breakfast special, but these are an example of what you are likely to have in this coffee shop.
Very generous service, isn't it?!  It sounds very Japanese to have coffee and bread with some steamed egg custard and miso soup though Lol
According to the article, the owner of this cafe have started offering this service since the end of 2010 after being asked about cafe offers breakfast special in Nagoya by customers so many times.  The owner thought that morning specials in Nagoya are less appealing than ones in other areas of Aichi prefecture.  For this reason, this generous breakfast special was planned regardless of profit.
The cafe has total of 25 cats in 10 different breeds, and attracts wide range of customers who would like to interact with cats. Also, the cafe offers over 100 menus, which has a cat shaped thing hidden somewhere in every plate:-)
Having a nice breakfast with cute cats will definitely help you to start a lovely day with a full of energy.
I hope you enjoyed today's article about cafe breakfast of Japan.
Your comment is always welcome~♪
Source: Sakae Keizai Shimbun
This is JAPAN Style!