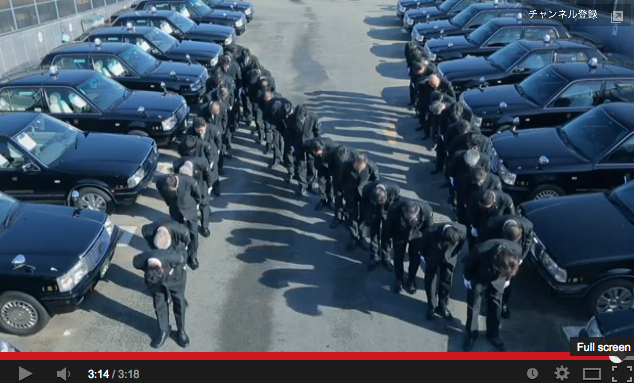 Japan's very popular idol girl group, AKB48, released their 32nd single, "Koi Suru Fortune Cookie" (Fortune Cookie in Love) last August. The dance routine for this song is quite simple and easy to mimic. Many fans have uploaded videos of themselves dancing along with this song on Youtube, and this movement became a sort of trending web video phenomenon. Not only ordinary fans joined in, but also lots of companies or public institutions. Today, I would like to share my favorite, posted by a venerable taxi company called Nihon Kotsu.
This is the original video by AKB48. If you have not yet seen it, you'd better check this out first quickly 🙂
And this is the taxi company's video.
It all begins with smiling president's dance, then drivers, staff working at each office/maintenance garages/call centers, the president's mother and wife, and even customers dance along! Although their dance techniques are of course not perfect, the spirit of it all is really heartwarming. And they all look very happy when dancing 😀 My favorite part is the ending. The drivers in suits with white gloves form the "N" of their company name, Nihon Kotsu, and politely bow. Now that looks VERY Japanese, doesn't it?
Author: Junko
This is JAPAN Style!