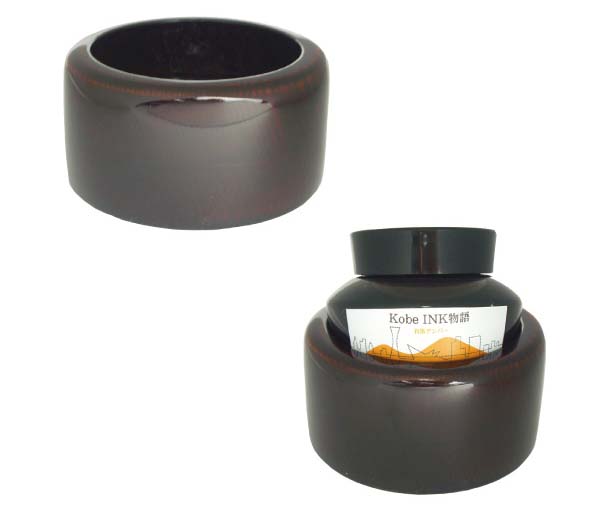 Nagasawa Original Bottle Ink Holder: The item to enjoy your life with the fountain pen even more
Kobe Ink Story – the theme is the color that would fit the "elegant City of Kobe". Kobe Ink Story series has been developed by skilled technicians from Sailor Fountain Pen, Co., taking for a theme "the color that would fit the elegant City of Kobe", in order to make the life of fountain pen users even more enjoyable and fruitful. Nonprofit Corporation – The Corporation for Promotion of Industry of the City of Kobe, which organized the "Kobe Selection 2008" acknowledged products of Nagasawa Co. shop and they are very successful.
Nagasawa Co. has developed items that will up-grade the original inks from their store that will make you enjoy writing with various colors, as if you were walking through the places remembered in connection with Kobe.
This is a wooden stage that can hold a whole ink bottle.  This is a special item that will make you feel warmth and make the atmosphere of using your fountain pen even more elegant.  There exist also glass ink bottles, which have very good design fitting for the interior, but it may be a bit burdensome to re-fill it with ink, so some people may avoid them.  But that will be easy with this item.
The material is the hinoki wood (Japanese cypress), which is widely used for making furniture.  It has a bit coarse surface, but it has also beautiful pattern of growth rings that appears on its surface when it is processed.  The craftsmen of Kyoto have created this special item that will not bother the presence of the fountain pen and ink bottle, making it a beautiful and simple item.
Please look at this beautiful ink holder and others in our online store under the stationery category!

If the eBay link is dead and you have questions about the item, please contact me HERE.
This is JAPAN Style!