Do you do something extra when you take a bath? Some people say just having a shower is enough. But in Japan, most people love the ritual of immersion. Women especially enjoy lounging in the bath for a long time, watching TV, listening to the radio, reading a book, and so on 🙂
This time around, I would like to introduce some nice products for a happy long bath time!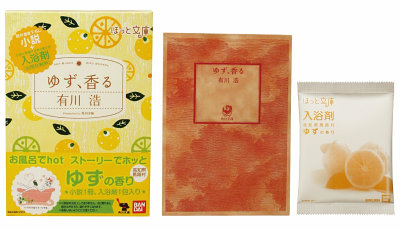 Starting August 3, toy maker Bandai will begin sales of a novel/bath salt combination. Six popular novelists have contributed new short stories, and each aroma and bath salt hue matches the feel of a particular story. These books are only about 30 pages long, so you can easily finish reading one while taking a bath.
These novel/bath salt sets will be sold at drug stores, supermarkets, and some big book stores. ¥399 (US$5). Although these books are supposed to be read in the bath, unfortunately they are not waterproof. If there was a special waterproofed book cover, it would be perfect ;D
Source: http://gigazine.net/news/20110524_hotbunko/
This is JAPAN Style!