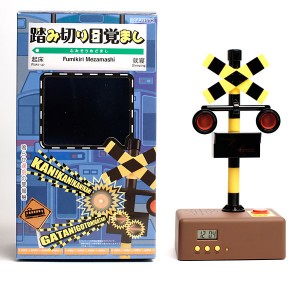 Can you tell what this is?
It's an clock with railroad crossing alarm made by BANPRESTO CO.,LTD, a Japanese game company.
The price is 2,600 yen (approx. 28 US dollar).
The size of the clock is W105 x H200 x D65mm.
It's larger than a usual alarm clock but it can sit on a desk or an end table.
It works about a half year on two triple A batteries.
When the set time comes, it goes off "clang clang" just like a Japanese crossing signal.
Check this out.
As you can tell from the video, the alarm is so loud!
It's because of the 40mm big speaker, which makes you turn it off right away.
The red "emergency button" to turn off the alarm is big enough to recognize.
Even though it's easy to turn it off, you can set on "repeating alarms" which the alarm goes off 5 minutes after you turned off.
If you have tried millions of alarm clocks but still oversleep, why don't you try this alarm clock??
It will work for you! (If doesn't, you'd better go to bed earlier!!!) 😛
Please CONTACT me to buy this item.
This is JAPAN Style!
You should follow me on Twitter HERE.