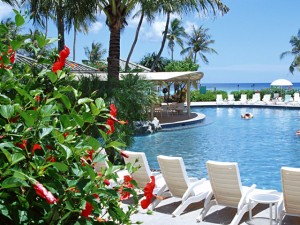 Trip Advisor, a travel site, has announced their list of Japan's Best Hotels, which was collected November 2008 to October 2009.
The Female's Choice Top 3 are,
1. Mandarin Oriental Tokyo
This luxury hotel opened December 2005 in Nihonbashi, Tokyo.
It occupies the 30th to 36th floors of Nihonbashi Mitsui Tower.
In the summer of 2006, the hotel awarded "6 stars" by The American Academy of Hospitality Sciences for the first time in the history.
The rooms are beautifully harmonized Japanese tradition and contemporary style.
Also the hotel is themed "Forest and Water" which represent Japanese beauty, and the guests can feel nature in the space created with wood and water.
2. Busena Terrace Beach Resort
It's the most luxury beach resort hotel in Okinawa.
It's located on the Cape Busena, and the beach resort occupies the whole cape.
It features the bright and refreshing open air structure and the private beach by the beautiful blue ocean.
The guest rooms are selectable from ocean front, ocean view or green view.
Having been used as the main site of Okinawa G8 Summit in 2000, it gained more popularity.
3. With the Style Fukuoka
It is located near the Hakata station in Fukuoka prefecture.
The modern and stylish hotel is based on the concept of "the resident style of California".
They entertain the guests by music, cinema and creative art work.
The neutral colored guest rooms are decorated with modern art created by the French based artist Tsuyoshi Hirano.
They have swimming pool, penthouse and Jacuzzi that all guests can enjoy.
This is JAPAN Style!
You should follow me on Twitter HERE.