A Japanese apron, maekake was originally made to worn over kimono.
Today, it is often seen that liquor retailers wear them.
It's simply a rectangular cloth with straps on it.
It's commonly navy blue or black and a store name and slogans are written.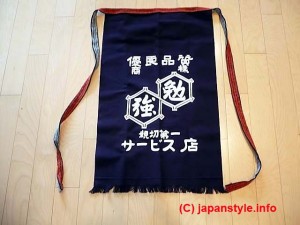 This one shown in the picture is a example of a retailer maekake.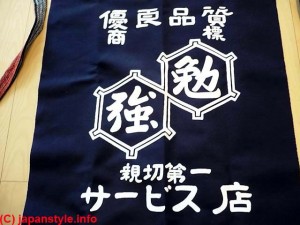 The top 4 kanji says "High quality".
The word in the middle 2 hexagons says "We'll discount".
The word literally means "study" but in the business, it means "We make effort to discount".
The 4 small kanji under the hexagons says "Kindness first".
The last one says "service store".
Because maekake has retro Japan feeling, it seems to catch some foreigners' attentions.
In fact, a maekake exhibition was held at Kinokuniya in New York a couple of months ago.
20 maekake were displayed and entertained the local Americans and tourists' eyes.
Unlike a regular apron, maekake is mannish, so it's perfect for men.
It also can be a good tapestry when it's not used.
This is JAPAN Style!
You should follow me on Twitter HERE.