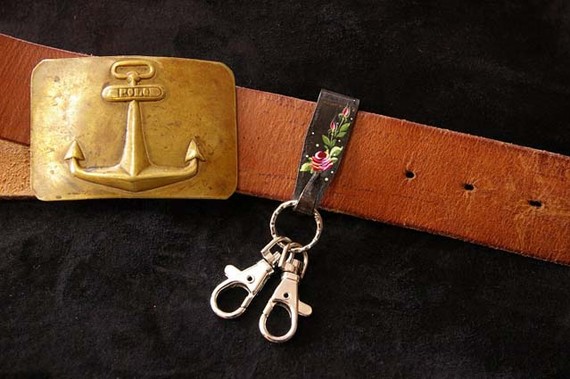 This is a keychain with Japanese Nanbu Iron (1P). Really beautiful rose design.
Each one is wholeheartedly painted by a craftsman.
* Only one side is painted.
[About Nanbu Iron…]
Recently, Nanbu Iron has increasingly gained an international appreciation in the fashion world in such places as New York City and Paris.
Today's popularity of Nanbu Iron can be directly traced back to its roots 400 years ago.
During this time period, King Nanbu, the leader of the Nanbu people of North Eastern Japan, cherished the quality and strength of the Nanbu Iron while having a keen eye and deep appreciation for art; thus, under King Nanbu's patronage the Nanbu Iron casting techniques and avenues of artistic expression flourished.
Today's two particularly popular items that came out of this time period are the vine-shaped handled iron teapot and the decorative iron wind chime. Both items are very beautiful to see and touch. What makes the vine-shaped handled teapot significant is the brilliance of the casting techniques.
Previously, teapots were cast from a mold, but with improving techniques under King Nanbu's leadership blacksmiths were able to create an artistic handle separate from the cast pot. This vine-handle was hammered – not cast – into shape.
Really beautiful!

This is JAPAN Style!

If the Etsy link is dead and you have questions about the item, please contact me here.

You should follow me on Twitter.