It is safe to say that having a nice, relaxing bath is all girls' favourite. There are many bath items available ranging from traditional bath salt, essential oils and bath bombs, but it seems flower bath is catching attention of girls.
I guess for most of girls bath full of flower petals is something they dream of, but it only exists in the world of princess (or Disney movies) and even if there are a bunch of flowers, they would probably want to enjoy flower for a long period of time by flower arrangement instead of using them for one time relaxation in hot bath tub. But it is gradually getting famous among fashionable girls.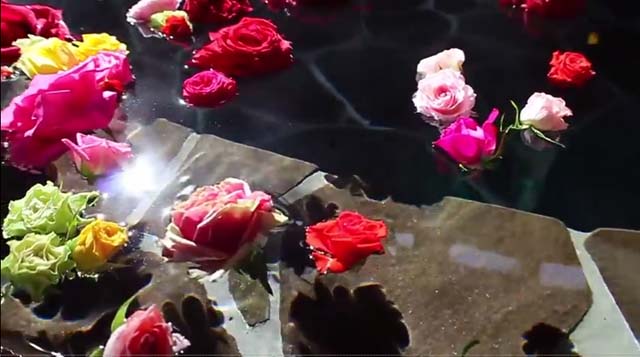 According to an article, flower bath has all the reason why girls can be addicted to which is a lot more than just making them feel like a princess. 1) Effective aroma components can be absorbed through pores; 2) recovery from exhaustion and metabolic activity can be accelerated; 3) especially aroma of rose fixes rhythm of female body; 4) rose makes your skin beautiful and prevents skin damage from sun.
Knowing all those good things about flower bath especially rose one, women's mind cannot allow wasting flowers! So flower bath can be enjoyed as a part of girls pyjama party for 2+ hours, and some people keep given flowers in a fridge so that they can use them little by little when they needs flower bath as a treat.
I know where they are coming from. Flower bath is a dream for all girls, but flowers are too good to waste in a bath… But maybe birthday and other special anniversary can be okay to have such a treat? Guys, if you treat your women in a good, romantic way, preparing her a rose bath may be a good option. Filling with a nice aroma of roses, there should be no way you can fail. Oh, maybe better to put flower as it is with a branch instead of putting petals if you want to make it easy to tidy after bath. Happy bathing!!
What do you think about today's article?
Please let me know what you think. I will be looking forward to hearing from you  😉
Source: Matome NAVER
This is JAPAN Style!