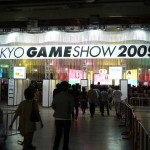 I would like to report about Tokyo Game Show 2009, which was held from September 24th to 27th at Makuhari Messe.
"Tokyo Game Show" is the biggest video game convention held annually in Japan.
I went there on the last day and it was so packed!!
There are about 1550 booths in the venue and it's said that there will be more than 180,000 visitors all told.
There were not only Japanese game companies but also overseas companies from China, Taiwan and Canada had booths there.
All kinds of people visited this convention; children to adults, family and couples, also semi-professional photographers who might be there to take pictures of booth girls.
—To be continued.
All photo by Atsu. Check it my flickr
This is JAPAN Style!
You should follow me on Twitter HERE.