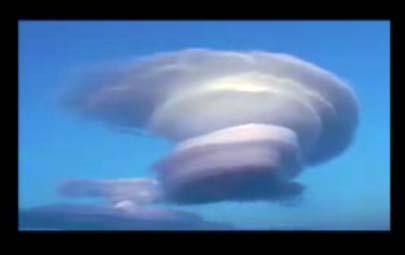 I found a video of a mysterious cloud when I was searching videos on the net.
The video was taken in Hokkaido, Japan, in the middle of August, 2010.
It was shown on NHK channel, one of the major TV stations in Japan, back then (I did not know about it). There may be some people who have already seen it. Anyway, let me share this information with you.
Isn't this amazing? 😯
It is a cloud which reminds you of a UFO, Castle in the Sky or an American movie, "Independence Day".
Apart from anything else, I am dazzled by the natural wonder and I envy the people who could see it close in Hokkaido. LoL
And let me introduce the comment given by the Japanese person who took the video.
He says, "I came across it when I went to Risiri Island in Hokkaido on my holiday and took the video. It is an UFO-like cloud. Amazing thing was, despite the strong wind, the cloud hardly changed the position. Reflected on the sunset, the shiny cloud was beautiful and mysterious."

You should follow me on Twitter.