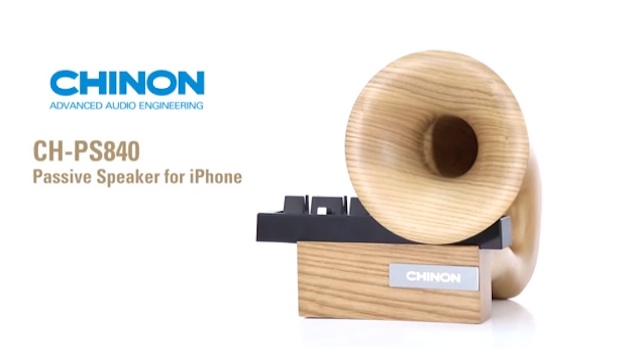 Our lives are lately full of digital sounds such as alarms, beeping home appliances and phone ring tones. The product I would like to share with you today might be perfect for those who have become a little tired of those inorganic digital sounds, and are beginning to miss warmer tone colors.
Chinon, the Japanese camera maker, has created an iPhone passive speaker CH-PS840 that doesn't use an electrical amplification system, but instead creates natural, mild, and soothing sounds through a handmade wooden horn. The material is beautifully grained Japanese hardwood ash. The device only weighs about 400g and no auxiliary power is needed, so it would be perfect for outdoor or remote use as well. Operation is quite simple; you just place your iPhone on the base of the speaker. The speaker itself doesn't need a power charge, but you can charge your iPhone when you connect to your AC adapter or power bank. That sounds very handy! Chinon CH-PS840 supports iPhone 4, 4S, 5, 5S, 5C. The price is ¥29,260 (apprx. US$272)
Here is an introductory video.
Classical music sounds great when played through this speaker! What type of music would you like to listen to with the Chinon CH-PS840? 🙂
Author: Junko
This is JAPAN Style!