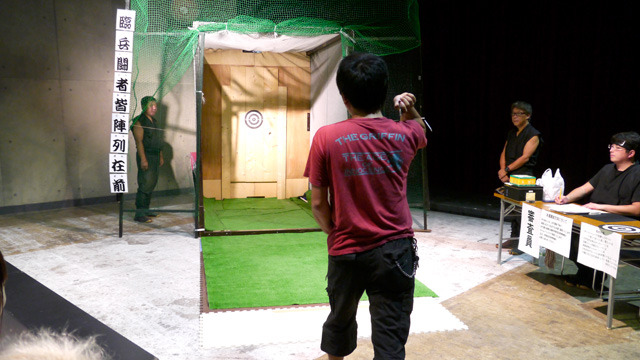 Japanese kids think and hope to be a ninja at least once, watching popular manga program such as "Ninja Hattori-kun", "Nintama Rantaro" or "NARUTO".
The writer of this article is also one of them, his dream was to be "Ninja Hattori-kun" when he was a child. He is an adult enough now, but somewhere in his mind he still can't give up his dream to be a ninja.
One day, he found an event of "Throwing Stars Championship", suddenly the chance to realize his dream came to him. He thought he can be a ninja by competing techniques of throwing stars in this championship.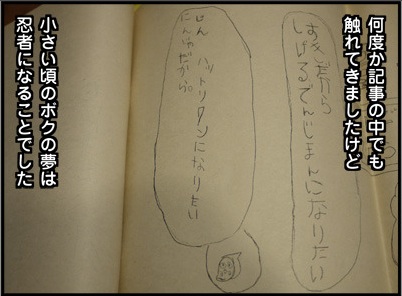 This is his diary in his childhood,
says "I wanna be Ninja Hattori-kun in the future."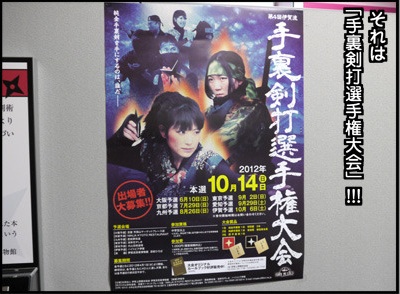 This is the announcement of the event "Throwing Stars Championship".
What attractive this event is!!  😯
As soon as he found this announcement, he made a registration on its regional preliminary competition.
I will introduce his report when he joined the competition through this article.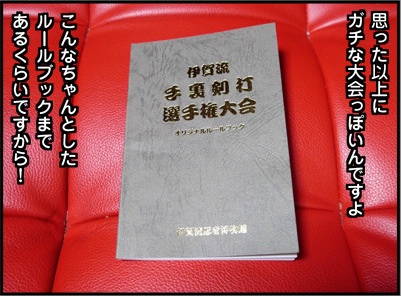 This is the rule book for the championship. 
There are 40 pages in this quite expensive-looking rule book.
The event looks full-scale event than he thought.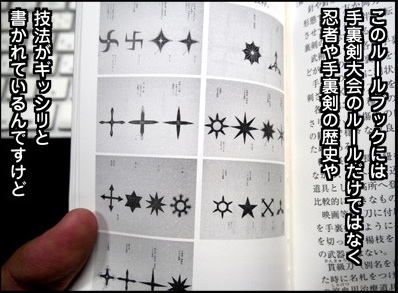 There are not only the rule of the competition, but also the history of ninja and techniques of throwing stars, such contents about ninja are dense in each page of the book.
The day finally came….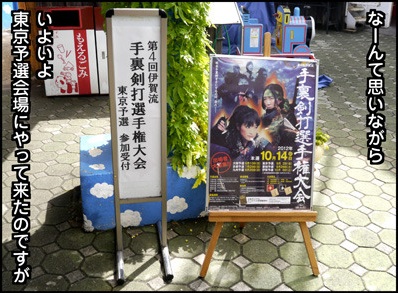 The 4th Throwing Stars Championship Tokyo Qualifier 

Some participants look real ninja like this.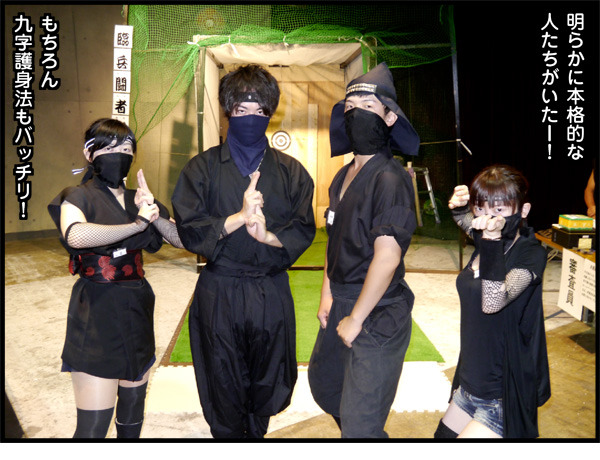 Obviously they look real, professional ninja.
Other participants were also wearing ninja suits, they looked strong nimble ninja.
He asked them how they got the costumes, they answered like:
"We are always training ninja techniques in training hall every day, so we have the suits."
"!!!"
"Am I fine to join this event? Even I am wearing T-shirt and pants today!"
By the way, the writer called a company Ms. Mika Sakurai who is also a writer of this website to join this event.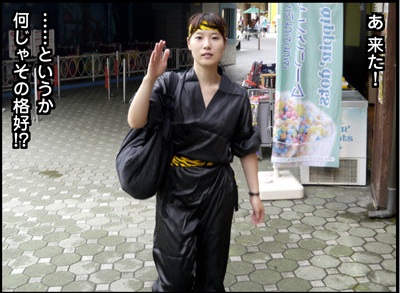 Here she is. Wow, she is wearing what??
Does she look like a ninja? NO!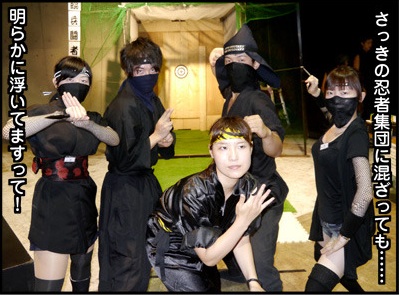 At least she doesn't look a strong professional ninja….
But anyway, the competition will start.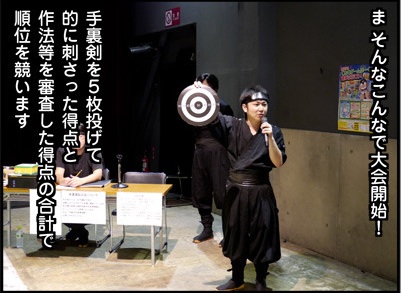 The staff explains the rule.
Each participant will throw 5 stars toward the target, and compete the score in the target. Also their manner of ninja will be added to the total score.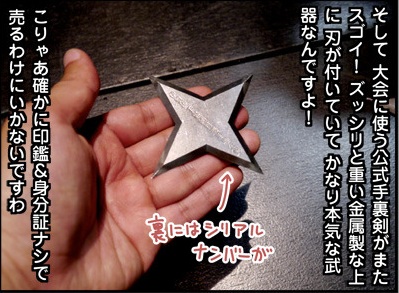 This is the star the participants were given. 
It's heavy metal material with real edge all around the frame, and there is a serial number on the back.
It's like real one.
It does make sense that all the participants need ID and seal to receive it.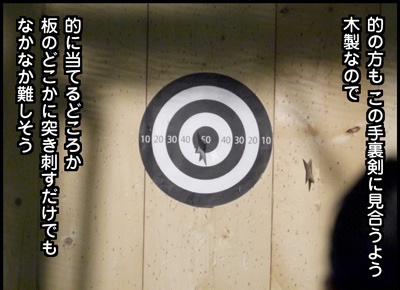 This is the target made of wood.
It looks really difficult to meet the target, even it looks hard to sting it to the wall.
Meanwhile, the game had been starting already.
The people who trains every day were different.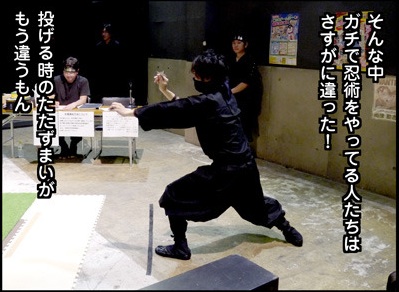 Look at this sophisticated style! It's a real ninja!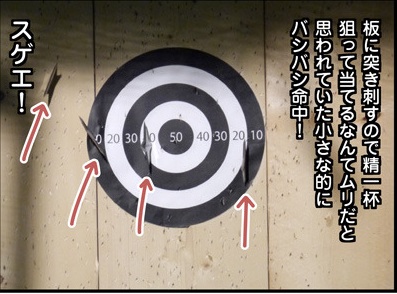 Their stars hit the small target one after another. That's great!!
Seeing this wonderful play, the writer gets so nervous. But now, only he can do is to try his best he could.
While he was thinking, Ms. Mika Sakurai's turn was coming.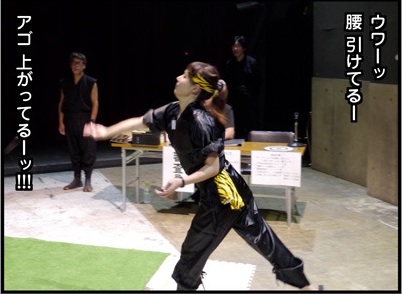 Wow, we must not compare with the professionals.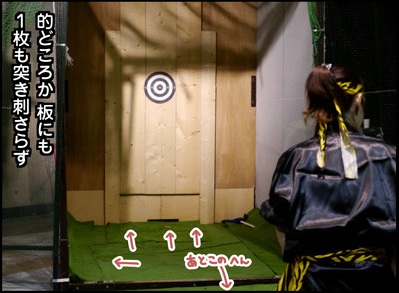 Even a star didn't sting the wood wall, let alone the target….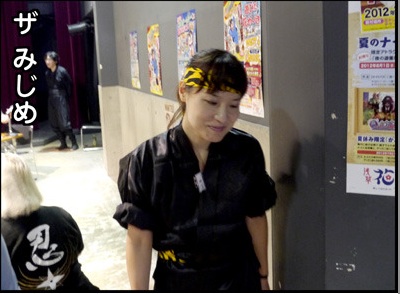 How miserable she is….
Then, his turn is finally coming.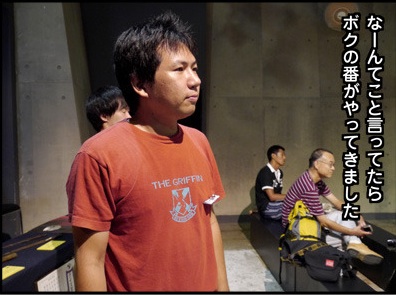 He looks so nervous…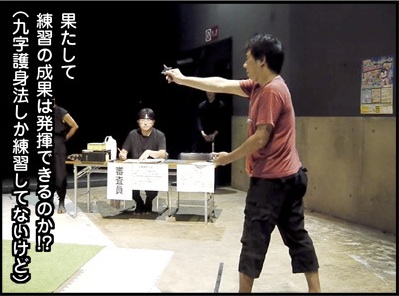 Can he hit the target??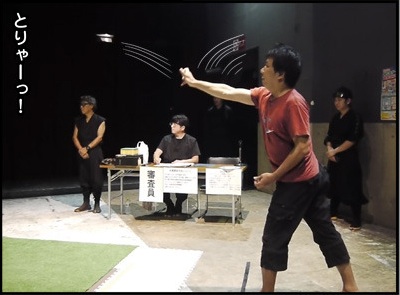 Go!!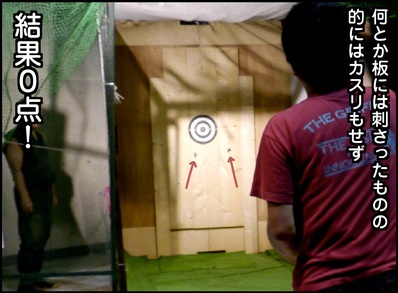 Some stars stuck to the wood wall, but not the target. 
The score was "0".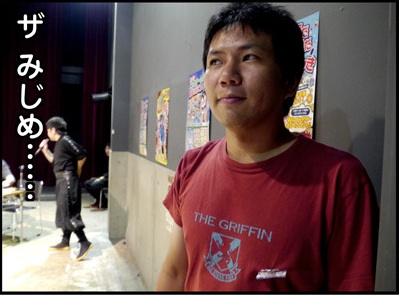 How miserable he is…..
Actually it is hard to meet the target. They need practice.
However, some participants were doing well….
 

 Like this man who has no experience…

 

Like this woman who wears such easy shoes with no experience…
Well,based on this, it seems that experience is not a problem, it is rather a matter of their motor skills.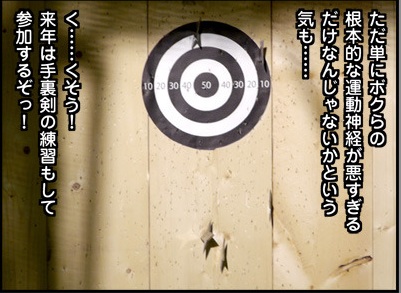 He promised himself that he will practice a lot, and achieve a satisfactory level of performance next year.
Now we have seen his report of his amazing experience. What do you think?
Even though he cannot be a real ninja and his dream did not come true, but he understood that hard training will be needed to be a ninja.
Anyway he enjoyed this event very much, we are happy to see it.
And also, we should give applause for his courage to join this full-scale event with wearing T-shirt and pants.
I would be grateful if you let me know your unique experience  😛
Source: Daily Portal Z
This is JAPAN Style!