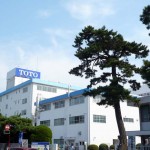 Last weekend, I went to TOTO Ltd. Chigasaki factory to see "Unique Toilet Exhibition."
It was very interesting to see the history of Japanese toilets and high-tech toilets, so let me introduce you what I saw at the exhibition.

<The History of Japanese Toilets>
1.Yayoi period (500 BC to 300 AD):
Wooden step was set by a river.
Because the excretions stay in the river, it was extremely unsanitary. (photo 1)
2.Heian period (794 to 1185):
The nobles in this era used wooden potty. They put sand or ash, just like cat litter!
The bar in front is for a princess to hang kimono sleeves. (photo 2)
3.Heian period (794 to 1185):
The square one is a uric potty. (photo 3)
4.Early Edo period (1603 to 1701):
This wooden uric potty is especially for [W:Tokugawa Mitsukuni] (He was a prominent daimyo).
Japanese cedar leaves were laid to deodorize and to prevent urine to splash. (photo 4)
5.Edo to Meiji peiod (1603 to 1912):
Getting close to the later Japanese toilet but still made of wood.
They put bucket to keep the excretions to use as fertilizer for their fields. (photo 5)
There are more pictures I want to show you. I will upload more tomorrow, so please don't miss it!
P.S. Please refer to the article "Japanese Super Toilet" !
This is JAPAN Style!
You should follow me on Twitter HERE.