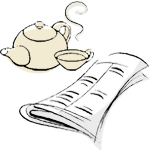 — ABOUT  Wasabi Stories… —
"Where Your Will is Ready, Your Feet Are Light"
Today's story-teller is novelist [W:Anna Ogino].
The story is about 'P.E.N. club'.
It is a student's organization operated at the university Ogino teaches classes. The students of the organization work on interesting things. Some of the students have published a miscellany with nearly 400 pages.
Meanwhile, some male students keep themselves busy with knitting.
On the other hand, some students are fired up to win some literary awards.
Ogino says, "Since I am a slow writer, I felt faint when one of the students told me that they finish writing 350 pages in 10 days."
The student writes at a family restaurant most of the time. He usually spends 12 hours a day for writing. He doesn't want to bother the restaurant by staying there for a long time, so that he goes home after writing at the restaurant for 6 hours.
Then he takes a nap for 3 hours at home before he goes back to the restaurant to write for 6 hours again. He repeats the same routine every day.
Ogino says, "Working for 15 hours is tough, but working for 15 hours to go after your dream is wonderful. Where your will is ready, your feet are light. His effort has motivated me to work harder."
The NIKKEI 12/28/2009 by Anna Ogino (novelist)

You should follow me on Twitter.