This is a famous Japanese ukiyoe (woodblock printing) artist, Hokusai(1760-1849)'s "Great Wave off Kanagawa." Because this is very famous, you may have seen the image used on different things.
Recently, I found that there is a house designed based on the printing in Cyprus, an island in the Mediterranean.
This is the house.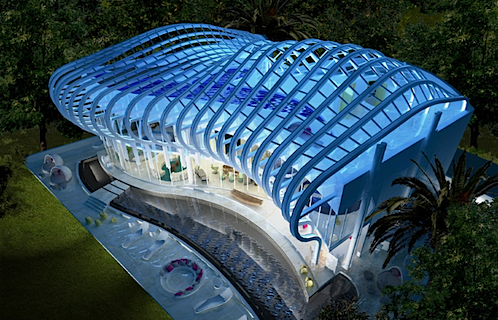 The wave like roof is beautiful and it surely reminds me the printing.
The house, "Aura Residence," was designed by Andreas Trisveis, the architect who is a partner of Mobius Design Group.
It has 6 bed rooms, gym, swimming pool with two Jacuzzis, yoga platform, steam bath, hammam, maid's room, and more.
"Aura residence" is by a beach close to the Cyprus international airport, which makes it perfect for a vacation home.
It has been a while since the house came on the market at 12.5 million euros.  😯
I wonder if someone already bought it.
Source: Ruriiro Tradition
This is JAPAN Style!

You should follow me on Twitter.