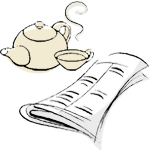 — ABOUT  Wasabi Stories… —
"People's Value is Not Always The Same"
Today's story-teller is novelist [W:Anna Ogino].
Because of her father who was in hospital, the scales fell from her eyes the other day. This is what the story is about.
She bought CDs of the Christmas songs for her father the other day.
The Vienna Boy's Choir's CD was 1,000 yen (about US$10), but an uncredited choir's one was 1,000 yen for a double CD.
She could not choose which to buy, so she bought both of them. She played the CDs in her father's room in hospital and listened to them with him. The difference of quality was clear even for her.
They were listening to the Vienna Boy's Choir's CD. When it came to the part where a soprano boy singer starts singing solo, her father's face darkened.
She says, "The clear high note was too much for him when he was sick. I learnt that sometimes unharmonious soprano by a second choir can get to someone's heart."
She learnt a good lesson by her father's reactions to the music.
By reading her story, I leant that everyone has different value, thus it may work better for some people when the quality seems poor for the others.
The NIKKEI 12/21/2009 by Anna Ogino (novelist)

You should follow me on Twitter.