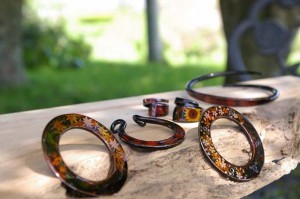 The other day, I announced round table discussion about ironware accessories on this blog.
Fortunately I got enough participants who are from other countries and live in Japan.
Tomorrow, on Saturday, we are finally going to have the discussion from 11am at my office.
I planned this round table talk after a craftsman who makes iron ware accessories told me that he wants to hear foreign people's impressions on his work.
For this discussion, five foreigners from overseas such as Asia and Europe, and the craftsman will come a long way.
After the discussion, we are going to have sushi bento together. I am very excited!
I am going to broadcast the discussion live on Ustream.
This time, since I will shoot it with iPhone, the picture may be blurred.
But I want you to feel the atmosphere and enjoy the discussion.
Oh, another thing to announce.
The craftsman is now inviting suggestions for a new accessory, and depends on the idea, it will be produced on a commercial basis.
So please tweet me on twitter while you watching the live broadcast.
Live Broadcast: June 5 (Saturday) 11am – 1pm (It is in Japan time. It may be midnight in your time.)
URL:http://www.ustream.tv/channel/japan-iron-accessories
Hopefully I can broadcast well but error may be happen, we'll see tomorrow.
Please check it on time!
See you tomorrow!
This is JAPAN Style!

You should follow me on Twitter.