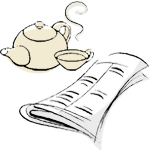 — ABOUT  Wasabi Stories… —
"Be Ready to Take The Chance"
Today's story-teller is a Japanese novelist Shizuka Ijuin.
His article was about former Yankees player, [W:Hideki Matsui].
Ijuin visited Matsui when he was in the middle of a workout in Japan in February, just before the start of the season. He was facing a crucial stage since his contract with Yankees was about to expire.
Matsui told him that he believed he could make use of his 6 years of experience in the Major Leagues to perform well in the season. However, when the season had started, Matsui's knee was still not in a good condition.
Even though it was in the middle of the season, the American media reported that there was no chance that Matsui would have remained in lineup.
Matsui used to go to the stadium earlier than the others to do a hard running exercise every day.
Matsui believed that the God opens the door to the ones who spare no effort to the coming chance.
Although the media was losing hope for Matsui, Ijuin believed he would have made it.
There was another person who believed that Matsui would have performed well. It was the captain, [W:Derek Jeter].
Jeter and Matsui are the same age. Jeter used to say, "I know Hideki will come through when the right time comes."
He received the MVP award in the year the contract was going to expire.
The thing Ijuin remembers the most is Jeter's smile when Matsui was selected as MVP.
Ijuin believes that Isao Hirooka, the Yankee's media advisor, contributed to Matsui's fine performance.
Ijuin says, "I remember seeing Hirooka throwing the balls for tee batting on a cold day in February. He is also one of the people who believed in Matsui's ability and gave full support through thick and thin. I think Jeter and Hirooka, their friendships with Matsui brought him the miracle."
The NIKKEI 11/24/2009 by Shizuka Ijuin (novelist)

You should follow me on Twitter.