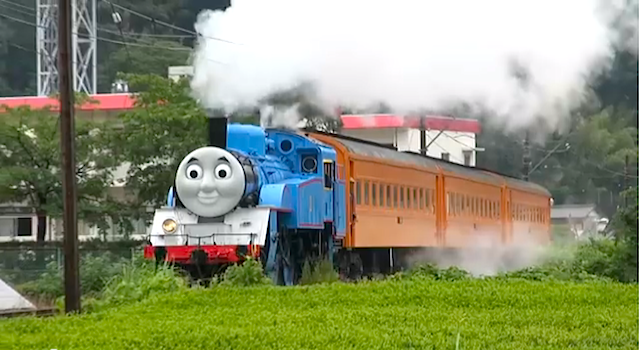 Thomas the Tank Engine from "Thomas and Friends" is one of the most beloved characters in the children's' television world. He is very popular with young Japanese viewers as well. And guess what! Well, this summer, a real life, full size version of Thomas will take to the rails for a tour of Japan! Well, sorry… the phrase "tour of Japan" may be an exaggeration. Actually, Thomas will run from Shin-Kanaya station to Senzu station, on the Oigawa Railway in Shizuoka prefecture.  This special Thomas train will make one round trip per day (check on their schedule calendar–> here), starting July 12 and running all the way to October 12.
Leaving Shin-Kanaya station at 10:38am –> Arriving at Senzu station at 11:51am
Leaving Senzu station at 2:10pm –> Arriving at Shin-Kanaya station at 3:26pm
(No stopover)
The full size Thomas already runs in his home county, England. This Shin-Kanaya – Senzu route will be the first time for Thomas to run in Asia. Here is a video of his trial run.
https://www.youtube.com/watch?v=Gwned36mAWc
Looks like Thomas is elaborately made and perfectly matches the Japanese scenery, too 😀 If you have a chance to visit Shizuoka with your children this summer, don't miss a ride on this very special train!
Source: Netlab
Author: Junko
This is JAPAN Style!