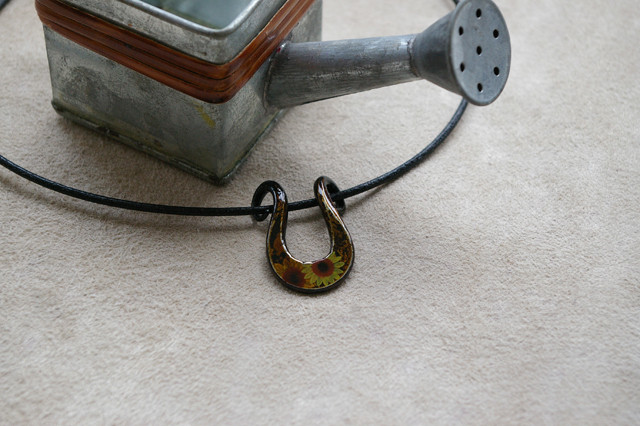 Bring happiness to your life with our new horseshoe pendant! Hand crafted in Japan, this pendant with its horseshoe shaped charm is a symbol of luck and happiness. Different cultures have different beliefs about the horseshoe, all of which associate with luck.
In Japan, the shape of the horseshoe is a symbol for road safety; it is also believed that the horse will attract luck in the form of money.
This pendant is made of iron and painted at the bottom of the horseshoe are two sunflowers, symbolizing summer. Sunflowers always grow toward the sun, so having this pendant will brighten your day as well as bring happiness and luck because of its horseshoe shape. Also if you want to accentuate your summer look, why not add this pendant to your everyday outfit? You'll look and feel like summer everyday!
Please browse our online store for further detail on this product and others!  😛

If the eBay link is dead and you have questions about the item, please contact me HERE.
This is JAPAN Style!