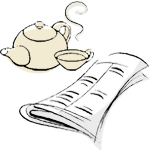 — ABOUT  Wasabi Stories… —
"Once you decided, don't change it because…"
Today's story teller is an actress, [W:Ayako Wakao].
She is wife of a leading Japanese architect, [W:Kisho Kurokawa], who died in 2007.
She first met her husband at a TV talk show called "Subarashiki Nakama (Wonderful Fellows)" in 1976.
And later, Kurokawa gave her a painting by a German artist, Fritz Koenig.
She recently found that the artist made the sculpture "The Sphere" placed in the plaza between the World Trade Center, which was destroyed by September 11 terrorist attack.
Wakao said she can't see the painting without remembering when they first met.
She also told about what she learned from her husband.
Wakao used to hesitate and think again to make action even after she already decided to do so.
But her husband's word positively changed.
He said "Architects decide everything including small door knob with great deliberation, and once we decided, we don't change that no matter what happens because many people are involved in the project."
Since then, she strongly felt "once I decided to do something, I just do so without hesitation."
The NIKKEI Nov/9/2009  by Ayako Wakao (actress)

You should follow me on Twitter.