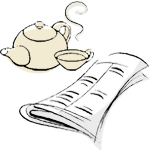 — ABOUT  Wasabi Stories… —
"Clench your teeth and keep digging one point"
Today's story teller is an actor [W:Ken Watanabe].
Centering on the film he starred, "Shizumanu Taiyo", he talked about introspection of the character he played and his life.
Since the story is so long, I will leave it out here.
Through the main character he played, Onchi bore up under absurdity of business organization, Watanabe thought what is work?
And how could Onchi be a strong person who wasn't daunted by the organization.
At the end of the film, Onchi got to Africa, where Watanabe visited alone before shooting started.
To sum up what Watanabe told, in the film, Ochi may look he is naturally strong and special person but he can be uneasy and distressed.
Without looking away from the pain, Onchi finally could draw close to the pain in Africa.
In the interview, Watanabe talked about his own life.
As you may already know, he suffered from leukemia in a big time in his life and has experienced a lot of hard times.
Nowadays worker cutbacks and downsizing often become topics for news.
Acting is also a career which is never guaranteed to have "tomorrow", and that is why, Watanabe said that he really understands the people who have insecure job like working as contracted temporary workers.
Watanabe's word
"Even though I tried hard, my work wasn't evaluated well. I was vexed and thought 'why I missed the role and he gets it?' I have experienced so many unfair things when I was young. But now I look back those times, the job I thought worthless were connected to an unforeseen lode. So I want to say to young people 'Clench your teeth and keep diggings one point at first. If you work earnestly, it comes back to you.' I finally realized that recently. "
The NIKKEI Oct/28/2009  by Ken Watanabe (actor)

You should follow me on Twitter.