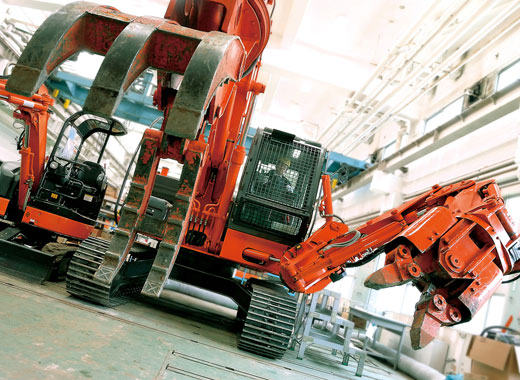 Japan's No.2 construction equipment maker, Hitachi Construction Machinery Co,.Ltd developed a cool chunk of heavy machinery called ASTACO (an acronym for Advanced System with Twin Arm Complicated Operations, and it also means a crawfish in Spanish).
ASTACO is very popular not only among professional heavy equipment operators, but also with amateur machine lovers. But why the buzz? It's because this machine was designed by a Gundam fan engineer and moves just like a "mobile suit" (man-shaped robot with a cockpit) from Gundam! 😯
According to the Hitachi website,
"With ASTACO, both arms are used in the same manner to work on the same target object, …. the heavy lifting is handled by the right arm, which boasts the capabilities of a base machine, and the left arm is used to support various tasks…. The design allows both arms to be controlled simultaneously with left and right joysticks, allowing operators to viscerally convey their own arm movements to the front. In addition, the arms move according to the operator's actions and objectives without concern of extra controls."
Demonstration video
Akinori Ishii, the developer of ASTACO,  admits to being a big Gundam fan. For many years he kept thinking about a new type of working robot to improve the efficiency of decommissioning/demolition operations. In 2003 he won an internal corporate competition and his concept of "twin-arm machinery" was adopted. And in 2005 after overcoming many technical obstacles, the fist ASTACO made its debut.
ASTACO also removed debris in the aftermath of the 3.11 disaster, in zones such as Ishinnomaki city and Minami-Sanriku town, Miyagi prefecture.
ASTACO are still demonstration machines and only available on a built-to-order basis, so each machine costs several tens of millions of yen. It is urgently necessary to actualize mass production. Otherwise, this epoch-making machine will remain a mere curiosity.
ASTACO has very unique operation system, so much more effort is necessary to open up new markets than to sell existing products. Many people in the construction/demolition industry are interested in this new-type of machine, but managers and executives may be reluctant to adopt it because ASTACO is too unique (or maybe financially risky) for them. Nevertheless, the young "Gundam generation" is very anxious to get behind the controls of that awesome machine!
[Just for fun : Video of mini ASTACO toy produced by Tomica :D]
Source: Hitachi Website and DIAMOND Online
This is JAPAN Style!