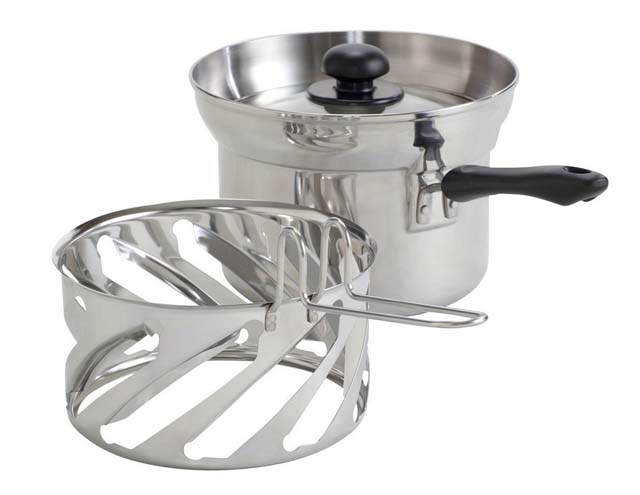 I found this interesting, innovative pot today so would like to introduce it to you.
But why kuru-kuru (swirling about)?? Once you use the pot you will notice how it works. When boil the water, the ingredients in the pot starts swirling about. If the water is boiled over when boiling pasta, for instance, that is caused by the boiled bubbles. If the water is swirling about, the bubbles get centered and the water is less likely to boil over.
This is only one of the characteristics of the pot. Together with the bubbles skim is also gathered in the center and it makes easy to get rid of it. You do not have to stir by yourself as it is self-stirring. All the ingredients are cooked equally and that makes cooking times shorter and gas rate less.
The secret of the system is in the chase on the surface of the inner pot. This guides the water which has a tendency to go upwards compellingly on a skew. Then the water makes a current in a circular pattern and becomes whirl.
Probably if you are an Apple fan, you would have noticed that the manufacturer, Toyo Rikagaku Kenkyusho Co. Ltd., is the company which has become well known for their product, iPad mirror-like finishing. It may be exciting to know such a detail of the product if you are curiosity seeker.
The characteristics of the pot can be viewed in a movie and has been in the air. The sales plans have been made also in 7 other countries and regions including the US. This could be a world hit invented in Japan!
[Characteristics]
Contents stir themselves
Less likely to boil over
Easy to remove skim any residue off
Source: http://www.kurukurunabe.jp/
This is JAPAN Style!