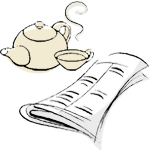 — ABOUT  Wasabi Stories… —
"Overcome Fears and Step ahead"
Today's story teller is a novelist, Main Koda.
She started her story with her friend's word.
"Today's young people tend to choose an easy way rather than a challenging way, even they get a chance."
This friend's complaint against her subordinates reminded Koda an experience she had three years ago, when she was suddenly asked to host a radio show.
It confused her because even though she had had some chances to appear on TV or radio shows and been used to it, hosting show under her name was totally different.
The show was a 30-minute Saturday morning show, in which she invites guests from different fields and talk.
She had to pick right topic for an each show by considering the guest's specialty and be careful in time apportionment.
She felt uneasy if she could carry out such important duty.
The show started.
"We invited major figures one after another. By continuous tensions, I always had nightmare the day before the show. Sometimes I almost failed but I have been blessed with the staff, and finally in this fall, it will be fourth year since the show started."
She said she was happy because she starts getting overseas listener's impressions recently.
"Being in front of new job, anyone feels weak at the knees, but more you go through hardship, more you get joy. I want to tell that to the young people who hesitate."
The NIKKEI Oct/14/2009  by Main Koda (novelist)

You should follow me on Twitter.