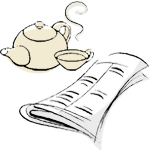 — ABOUT  Wasabi Stories… —
"Nothing you can't get easily after all"
Today's story teller is an author, Yojiro Sato. The theme is "a special friends."
Anyone may have someone whom he or she "can't match" or "can't looks straight in the eye."
Sato has a friend like that too and he talked about the friend whose name is Shinagawa.
"He doesn't speak ill of others personally or act in a cowardly way. He thinks that good person works hard. But we humans are mentally weak, compare oneself to others and jealous of them;" therefore, those who are not look shining to Sato.
Shinagawa is the very person who looks "shining."
They have known each other more than 50 years since they went to the same school.
Sato said that he has never met someone who works hard as Shinagawa.
Whenever Sato visited the city hall where Shinagawa worked, he was out, because he must've put importance on communication with the citizens.
Sato quoted an English writer, Chesterton.
"We have to live hard to gain only one woman, one friend, one good memory or one book." (This quote is not from original text but from Japanese translation.)
Thanks to modeling after Shinagawa, he could have been friend with him for a long time, and he always thankful for that.
The NIKKEI Oct/8/2009  by Yojiro Sato (author)

You should follow me on Twitter.