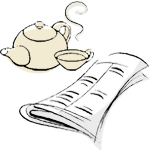 — ABOUT  Wasabi Stories… —
"What I Fist Did When I Got Pregnant…"
Today's story-teller is a Japanese artist [W:Miwa Yanagi].
It is about what it was like when her baby was born and how she felt.
Her baby is now 2 years old. She gave birth after she became 40 years old.
She had never been interested in babies before she had her own. So she strongly felt that getting pregnant was a big challenge for her.
She says, "Needless to say, I was over the moon when I found out that I got pregnant, but I was concerned that I might have become possessive. Most of women may purchase like parenting magazines as soon as they find about their pregnancy, but I first joined the orange ribbon campaign which is a campaign for child abuse prevention."
And then what happened to her after she gave birth to a baby was that she had a blissful moment. She thought that since we experience such blissfulness, we try to do the best to make a happy family.
She hopes her son to become a tactful person.
Everyone experiences some difficulties in his life. But she hopes he will overcome every difficulty.
Yanagi met an artist when she was in a high school. Meeting with this artist broaden her horizons.
Her words were impressive: "I hope he will meet people who have different values through his life in order to broaden his horizons, like I did."
The NIKKEI 12/8/2009 Miwa Yanagi (artist)

You should follow me on Twitter.