Last summer, JAPAN Style introduced the 1/1 scale Gundam in Odaiba, Tokyo, which became quit popular in Japan.
It's not broadly known, but there is another Gundam figure that has been popular among fans.
It is a Gundam (like) stone statue at a stone store in Yasu, [W:Shiga Prefecture].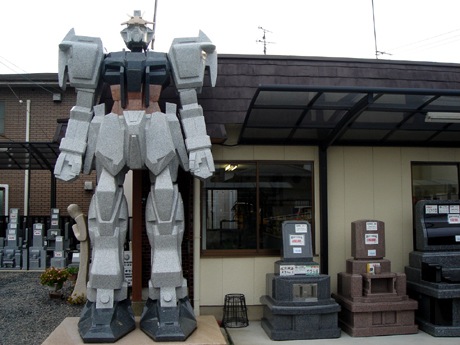 This statue is four meters tall and weighs ten tons.
According to the owner, he made the parts with granite and put together.
Although he made it as the drawing card of the store, he didn't know much about Gundam.
He said "People passing by take pictures of it with their cell phones. And it's discussed on various blogs and 4 to 5 groups of people visit us to see the statue. Even some people come from Kanto area. They tell me about Gundam. Whatever it is, I am glad that it pleased people."
Source: http://ruri.crara.cc/archives/4539/#more-4539
This is the JAPAN Style!

You should follow me on Twitter.