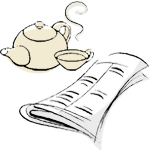 — ABOUT  Wasabi Stories… —
"Have a strong spirit 'I will do it at any cost!' "
Today's story teller is a Butoh dancer, Yasuko Nagamine.
In the article, she wrote about when she went to Spain to learn Spanish dance seriously at the age of 17.
Although she was eager o study flamenco, there was no one who could teach flamenco specially in Japan at that time.
So she immediately decided to go to the home of flamenco, Spain.
About the same time, her father died of leukemia, and she was so shocked as if she was thrown into a wilderness.
On the day of her departure, her mother saw her off with teary eyes.
Nagamine pretended that she didn't see her tears because she wanted to act a strong person.
But when she sat on a seat in the airplane, tears streamed down on her face incessantly.
In the airplane, she was asked "how long are you going to stay in Spain?" by an attendant and she said "Five to six years" instead of "three years" that she was originally planned.
It was the very moment when she strongly decided to "be a professional dancer even clinging to a stone."
In Spain, she was introduced to a dance teacher by the Japanese embassy, and started lesson, which was extremely hard and the teacher was strict.
Nagamine had taken the spitting-blood lesson for three years; however, she never thought it was hard or wanted to go back to Japan.
Nagamine's word
"I was completely absorbed in the lifestyle but I felt lonely on the first Christmas day. I was alone during the holy night. I received my mother's letter saying 'when the airplane disappeared in the night sky, I thought that your happiness was beyond the tail lamp and I gave you up', and I couldn't stop my tears."
The NIKKEI Sep/8.2009  by Yasuko Nagamine (Butoh dancer)

You should follow me on Twitter.