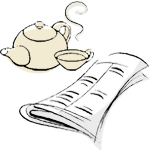 — ABOUT  Wasabi Stories… —
"What's the truth of this mystery?"
Today's story teller is an essayist, Yoko Hiramatsu.
She talked about her strange experience when she was in a train.
"That day, I got into a train of a private railroad starting from Shinjuku, and blankly waited for the train to depart. It was three minutes before departure. I was the only passenger in the train."
Soon, a thin short middle-aged man came in.
He unhesitatingly picked up a racing news paper left on a baggage rack and dropped into the seat.
"At the moment he opened the folded paper, his whole body hopped a little like a spring-loaded doll."
Wondering what happened, she looked at him. He was gazing at something between the pages of the news paper.
Curiosity made her look at what he was gazing at… it was a wad of bills!
She instantly used her brains.
A racing paper, a wad of bills, and a race track on the railway line.
Her guess was this.
The person who left the newspaper made a big hit but the wad was too thick to put in his wallet, so he put it in the folded newspaper.
And he got into a train and before he got off, he left his newspaper on the baggage rack as he usually does.
While she was thinking that the person must've been so chagrined, the middle-aged man looked at her.
His face was saying "you saw everything".
He looked at the wad again and counted the bills.
Finishing the counting, he approached her and whispered in a low voice "I have 54 bills here. 540,000 yen (US$5,700). I will share it with you."
He pressed her to be his accomplice but he was extremely tense; his voice was hollow, hands and legs were shaking.
Of course she didn't wan to be involved in such crime, she immediately said, "That is a lost article, so you better take it to the station staff."
His face was obviously saying "no way!" and as soon as he saw a station employee on the plat home, he hid the money wrapped with the paper into his jacket and jumped off from the train.
"Being panic, he ran away. He was hopping again just like a spring-loaded doll."
The NIKKEI Sep/5/2009  by Yoko Hiramatsu (essayist)

You should follow me on Twitter.