In the past article, I introduced the accessories made of Nambu (also spelled Nanbu) ironware (strap, key ring and so on).
Now I am planning to have a round table discussion on those Nambu iron accessories to share on JAPAN Style.
I want some people from foreign countries to join the discussion!
Although I can't make remuneration for it, I will provide gorgeous SUSHI lunch!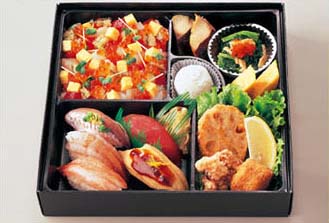 In the sushi bento box, there are nigiri sushi, chirashi sushi, and fries! (The food may not be exactly the same but in that case, I will prepare equivalent lunch.)
Here is the information on the round table discussion.
Date: June, /5, 2010. Saturday  11am to 1pm
Place: Aoyama, Minato-ku, Tokyo (the detail will be informed to the participants)
*The nearest station is Omotesando Station (Tokyo Metro Ginza Line/ Tokyo Metro Hanzomon Line).
About: I would like to ask opinions on Nambu Iron accessories and the prices.
Number of Participants: Five
*Anyone who is from another country and lives in Japan can apply irrespective of nationality.
*I will reply email to the participants only.
Reward: Sushi lunch
*You will not be paid. You have to pay your own transportation expenses.
Requirements: I would like people who can
Speak English,
Have a blog (not necessary, but I would like to write about the items in the blog),
* Students, housewives, office workers, part time workers, irrespective of career.
The deadline: May, 23. Sunday
*The application may be closed earlier.
How to apply:
Click the URL below, and on the mail form, write "Round Table Discussion Application" in the subject box and copy & paste following information in the message form.
Application URL:http://www.japanstyle.info/?page_id=20
Name:
Sex:
Nationality:
E-mail address:
Cell Phone #:
Your blog's URL (if any):
Can you speak Japanese?: Yes or No
On the day of the round table discussion, Mr.Suzuki (the craftsman) who makes those accessories will come from [W:Iwate Prefecture].
He is very looking forward to communicating with people from foreign countries.
He has strong will to make better products, so please give him your advices!
I expect a lot of applications!

You should follow me on Twitter.