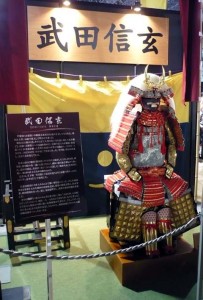 The booths that attracted the visitors the most were,
SQUARE ENIX: "Final Fantasy XIII" for PS3 will be released in December 2009.
KONAMI: "Metal Gear Solid —peace walker" for PS3.
NAMCO: "Tekken6" for PS3 and X-Box360 will be released late October this year.
SEGA: "Ryu ga Gotoku 4" ("Yakuza 4" in North America)
There are samurai generals to present "Sengoku Busho Game"(Samurai Generals in War period).
The 1/1 scale Gundam (that I introduced before) was broken up and the head was exhibited there (see below photo).
Everyone was taking pictures of it like crazy (me too 🙂 )!!
Speaking of game, "ASTRO BOY" movie game for PSP will be released early next month (check here).
All photo by Atsu. Check it my flickr
This is JAPAN Style!
You should follow me on Twitter HERE.