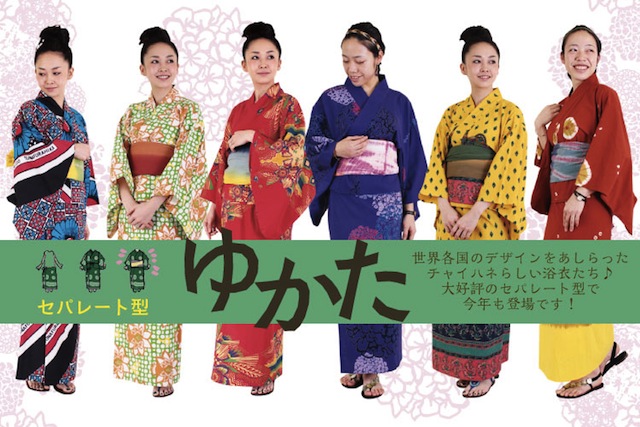 "Yukata" is the informal cotton kimono for summer season. Japanese girls do so enjoy wearing yukata as they go to see fireworks or summer festivals (hopefully with their boyfriends!) However, as you can imagine, it is quite difficult to put on yukata (of course kimono as well) by yourself. For those who want to wear cute yukata but are not skilled at arranging, separate style yukata produced by ethnic fashion shop Cayhane, are the perfect solution! The idea of yukata separates, consisting of the top part and bottom part, is not a new idea. Nevertheless, the separate yukata from Cayhane are not only easy to put on (it takes only 5 minutes) but also super kawaii! As I mentioned earlier, Cayhane is an ethnic fashion shop. So, their yukata designs feature tie-dye, cool African, and vibrant floral patterns as opposed to more traditional Japanese motifs. Cayhane started selling these fashionable separate yukata last year and have added eighteen new designs for this summer.
Wearing separate yukata is quite simple. 1) Put on the bottom part just like a wrap-around skirt –> actually the bottom part alone can be worn as a wrap-around skirt!  2) put on the top part. 3) Wrap an obi (sash) around your middle where the top and bottom meet. Cayhane's "obi" collection carries only a regular kind that you need to tie yourself. But, pre-tied "obi" can be easily found at stores…and that makes your yukata-loving  life even easier! Enjoy!
Source: Youpouch
Author: Junko
This is JAPAN Style!